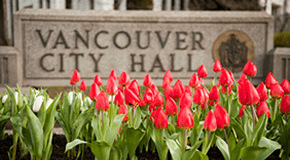 THE City of Vancouver announced on Monday that it is ready to license ride-hailing companies so they can get on the road and serve residents, businesses and visitors.
The City's ride hailing regulations were put in place to ensure that Vancouver can experience the advantages of ride-hailing as soon as companies obtain a Provincial TNS licence from the Passenger Transportation Board. Once the provincial licence is issued, companies can obtain a municipal business licence from the City.
City staff are already working closely with ride-hailing companies to ready their business licence applications for quick processing, and aim to issue a municipal business licence within three days of receiving a complete application.
The City said it supports the concept of an integrated regional approach and continues to work with other municipalities toward inter-municipal business licensing for ride-hailing companies to operate throughout the Lower Mainland. Until then, Vancouver's municipal licence ensures ride-hailing vehicles will be on the road in Vancouver without further delay for residents.
To keep costs fair for all operators in the city, the licensing and vehicles fees for taxis and limousines companies are now set at the same cost as ride-hailing companies.
A new Congestion and Curbside Management Permit program was also designed to mitigate congestion on City streets during peak traffic hours, and will take effect on January 6, 2020.
For more details on ride-hailing in Vancouver, visit vancouver.ca/ride-hailing.
Meanwhile, Kater announced that it "has stopped operating its current hybrid fleet of cars and has started the process of switching to our full-scale ride-hailing operations, launching in the very near future."
Quick Facts:
Business licensing
· The annual licence fee for a ride-hailing company is $155.
· As part of the business licence, ride-hailing companies pay a $100 annual per vehicle fee.
· Wheelchair accessible and zero emission vehicles will receive a 100 per cent discount on their vehicle fee.
· Licensing fees cover the program administration costs and analysis of trip and vehicle data submitted monthly by companies.
· Data collected will be used by staff to audit and evaluate the impact ride-hailing has on transportation and congestion in Vancouver.
· Incomplete applications may take longer than one week to process.
Congestion and curbside management
· Ride-hailing vehicles operating in the metro core between 7 am and 7 pm are required to pay 30 cents per each pick-up and drop-off as of January 6, 2020.
· Fees are reduced by 50 per cent for zero emission vehicles.
· Wheelchair accessible vehicles are exempt from the fee.
· Metro Core is the area bounded by Burrard Street, 16th Avenue, Clark Avenue, and the Burrard Inlet.