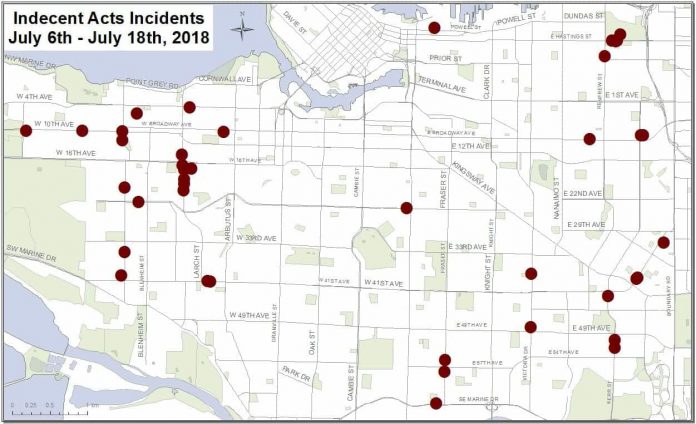 VANCOUVER Police are asking women who may have been the victims of a crime to come forward. In July, police arrested a male after receiving reports of a man exposing himself to young women throughout the city. Investigators now believe there are potentially more than 60 other victims.
Between July 6 and 18, Vancouver Police began receiving reports of a man driving a pick-up truck approaching teenaged girls and young women walking along sidewalks. He would pull up beside them and attempt to engage them in conversation, drawing their attention to the inside of the vehicle where he was masturbating. After seeing their reaction, the suspect would drive away.
There is no indication that the suspect tried to make physical contact with the girls.
Shortly after receiving a 9-1-1 call on July 18 about a similar incident near MacDonald Street and West 17th Avenue, officers located and arrested the suspect.
An analysis of a seized cellphone revealed approximately 30 additional video-recorded incidents throughout Vancouver with more than 60 unidentified teens and young women who were tricked into seeing him masturbate.
"Officers have continued their investigation after the initial arrest and determined the suspect had set up a cell phone to record his interactions with these unsuspecting young people," said Constable Jason Doucette. "Based on the videos recovered from his phone, we are confident there are many other victims who have not yet spoken with police and we are asking them to come forward."
Trevor John Kurjata, 28, of Vancouver has been charged with five counts of committing an indecent act in a public place and one count of exposing genitals to a person under 16 years. He has been released from custody with strict court-imposed conditions.
Anyone with information about these incidents is asked to call the Vancouver Police Department sex crimes investigators at 604-717-0604 or Crime Stoppers at 1-800-222-8477.