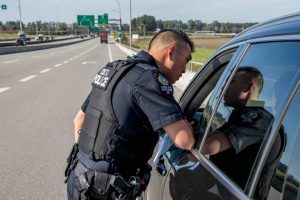 IN the third quarter of 2018, Delta Police say they saw collisions continue a downward trend, with 256 collisions during July through September, as compared to 334 crashes during that same time last year.
"Fewer collisions generally means fewer injuries, so we're very thankful for that," says Delta Police Chief Neil Dubord. "Traffic and pedestrian safety issues are one of our community concerns, and we've made a concerted effort to work with the community to make our streets safer."
He points to the social media campaigns conducted by the traffic department, such as the popular 'Tell us where to go', where the public periodically gets the chance to send patrol cars out to their top traffic beef locations.
Traffic enforcement incidents continued to increase over 2017, with 3,477 violation tickets handed out in the third quarter, as compared to 2,547 in the third quarter last year.
Other notable third quarter statistics include:
– Commercial break and enters, up from 25 in 2017 to 42 in 2018. Delta Police has targeted enforcement campaigns underway to address these concerns, and are working with impacted businesses.
– Residential break and enters are static, with 56 this year in the third quarter, compared to 55 last year.
– Theft from autos are down significantly, with 181 in the third quarter, compared to 257 this time last year.
– Persons offences, which involve serious crimes such as assaults, are up with 96 in 2018, compared to 84 in the third quarter of 2017.
"Looking at the data over the past three years, we've noted that really only assaults have increased, compared to the three year trend line, up 7% year to date on average. We had relatively low numbers in 2017, and across Metro Vancouver persons offences are up 8% year to date," says Dubord.
He notes that 77% of all assaults in Delta this year involve people who are known to each other, while stranger assaults include loss prevention officers dealing with a shoplifter, road rage incidents, or health practitioners dealing with someone experiencing a crisis. Drugs or alcohol are a factor in about one third of all assaults.
"One important fact is that of our 181 assault files in Delta by the end of August, only two files had any links to gangs, or the current gang conflict," says Dubord. "We think this can probably be attributed to our model of policing, and programs such as our inadmissible patron's program and our committed community.
To see crime reports of select recent incidents in Delta, such as property crimes or collisions, please see Crime Reports online at https://bit.ly/2PLvWu5.