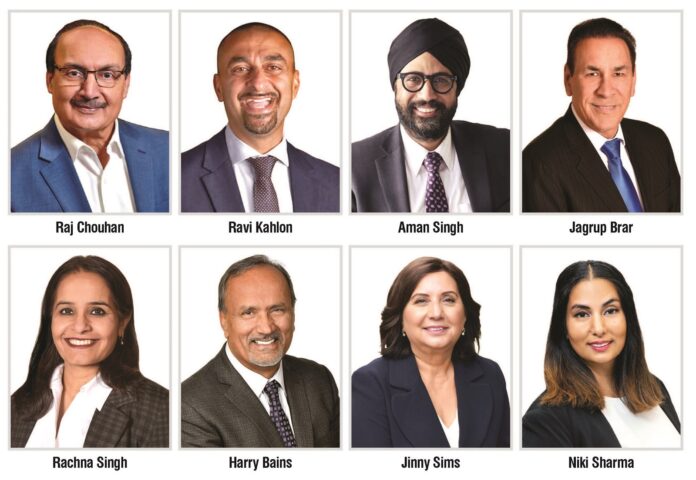 If Harwinder Sandhu wins in Vernon-Monashee after the final count, there will be a record number of nine South Asian MLAs
[This was for Saturday, October 31 print edition of The Indo-Canadian Voice.]
AS per the preliminary voting results from the initial count (as of October 29, 9 a.m.), there will be eight South Asian MLAs – all from the NDP – in the B.C. Legislature.
Back in 2001, when the BC Liberals under Gordon Campbell almost wiped out the NDP, there were eight South Asian MLAs – all from the BC Liberal Party.
However, this time, there might be NINE South Asian MLAs, if NDP candidate Harwinder Sandhu overtakes the Liberal candidate in Vertnon-Monashee, who she is trailing by just 217 votes, after the final count.
The final count is a count of absentee ballots for an election that were not considered at initial count, including mail-in ballots. There were a record number of mail-in ballots in this election because of the pandemic.
According to Elections BC, there were an estimated 85,000 certification envelopes containing absentee ballots cast across the province. As of 8 p.m. on October 24, an estimated 525,000 vote-by-mail voting packages had been received. This does not include any vote-by-mail packages that have been dropped off at district electoral offices or voting places.
According to the initial count, the NDP garnered 547,916 votes (45.08 percent of the total 1,215,511 votes cast across the province), the BC Liberal Party won 429,610 votes (35.34 per cent), while the BC Green Party got 185,887 votes (15.29 per cent). The NDP is leading in 55 ridings, the BC Liberals in 29 and the BC Greens in 3.
All incumbent South Asian MLAs won except for BC Liberal MLA Jas Johal who lost to another South Asian candidate – Aman Singh.
And all the other incumbent South Asian MLAs also faced South Asian candidates – all from the BC Liberal Party – who they defeated.
The new MLAs are re-elected Raj Chouhan (Burnaby-Edmonds), re-elected Ravi Kahlon (Delta North), newly elected Aman Singh (Richmond-Queensborough), re-elected Jagrup Brar (Surrey-Fleetwood), re-elected Rachna Singh (Surrey-Green Timbers), re-elected Harry Bains (Surrey-Newton), re-elected Jinny Sims (Surrey-Newton), and newly elected Niki Sharma (Vancouver-Hastings):
* Burnaby-Edmonds
Raj Chouhan: NDP / 6,861 / 61.24%
Tripat Atwal : BC Liberal Party / 3,072 / 27.42%
* Delta North
Ravi Kahlon: NDP / 8,486 / 55.20%
Jet Sunner: BC Liberal Party / 5,366 / 34.91%
* Richmond-Queensborough
Aman Singh : BC NDP / 6,275 / 46.34%
Jas Johal: BC Liberal Party / 5,343 / 39.46%
* Surrey-Fleetwood
Jagrup Brar: NDP / 7,855 / 59.32%
Garry Thind: BC Liberal Party / 4,258 / 32.16%
* Surrey-Green Timbers
Rachna Singh: NDP / 5,589 / 55.64%
Dilraj Atwal: BC Liberal Party / 4,456 / 44.36%
* Surrey-Newton
Harry Bains: NDP / 5,830 / 60.29%
Paul Boparai: BC Liberal Party / 2,814 / 29.10%
* Surrey-Panorama
* Jinny Sims: NDP / 7,967 / 53.21%
* Gulzar Cheema: BC Liberal Party / 6,655 / 44.44%
* Vancouver-Hastings
Niki Sharma : NDP / 7,253 / 57.70%
Bridget Burns: BC Green Party / 2,607 / 20.74%
South Asian candidates who lost from the NDP and the BC Liberal Party and who have not been mentioned above included Inder Johal (NDP) in Abbotsford South; Preet Rai (NDP) in Abbotsford West;Tariq Malik (BC Liberal Party) in Burnaby-Lougheed; Rishi Sharma (BC Liberal Party) in Saanich South; Dave Hans (BC Liberal Party) in Surrey-Guildford; Shaukat Khan (BC Liberal Party) in Surrey-Whalley; and David Grewal (BC Liberal Party) in Vancouver-Fraserview.
IN the last Cabinet, there were two South Asian ministers – Harry Bains (Labour) and Jinny Sims (Citizens' Services).
Ravi Kahlon was Parliamentary Secretary for Forests, Lands, Natural Resource Operations and Rural Development.
However, Sims had to step down because of a vicious campaign against her by the BC Liberal Party that included unfounded allegations that were proved false by an RCMP investigation. BC Liberal Leader Andrew Wilkinson played a part in that scurrilous attack and was reprimanded by Premier John Horgan when Sims was vindicated.
Bains has an excellent reputation and will be in the new Cabinet for sure.
Sims should be given a ministry, too.
Will Ravi Kahlon be in Cabinet? He certainly has proven that he deserves to.
Aman Singh, a human and civil rights lawyer who was raised in Hong Kong, would prove to be an asset in Cabinet. He would also stand out as the first turbaned Sikh MLA in BC.
Deputy Speaker Raj Chouhan will most probably be the Speaker.
However, Horgan has his work cut out for him because of the large number of MLAs, including newbies, this time. He has to keep several factors in mind – gender parity, regional representation, ethnic diversity, to mention the main ones.
The VOICE thinks that one way out could be the appointment of a large number of Parliamentary Secretaries. As it is some ministries are huge – and they could easily be split up for more efficiency.