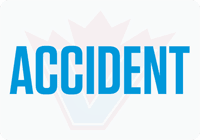 UPDATE: Nordell Way / 120th Street is now open to traffic.
SURREY RCMP are currently on scene on Nordell Way, just East of 120th Street, where a male has succumbed to his injuries in a two-vehicle collision. 
On September 8, at approximately 1:15 a.m., RCMP were advised of a two-vehicle collision. A grey Camero with two males in their late twenties was westbound in the fast lane on Nordell Way when a black Mustang, also with two occupants in their late twenties, passed the Camero, and the two vehicles collided.
The Mustang lost control and went sideways into a hydro pole. The driver of the Mustang received serious but non-life-threatening injuries. The passenger in the Mustang succumbed to his injuries and was pronounced dead at the scene. The two occupants of the Camero received minor injuries. It was raining heavily at the time of the collision. Nordell Way is closed to traffic in both directions between 120th Street and 88th Avenue, and will remain closed for some time.
Surrey RCMP are seeking the public's assistance and asking anyone who may have witnessed the collision, have dash cam footage of the collision or witnessed how the vehicles were being driven to call them at 604-599-0502 or CrimeStoppers in reference to Surrey File # 2019-138654.