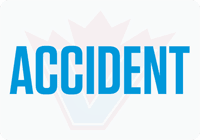 ON Monday at 6:52 a.m., Surrey RCMP received a report of a single vehicle collision into a pole on 108 Avenue just west of 144 Street. Police located a male passenger with significant injuries. Despite lifesaving efforts performed by Surrey Fire Service and Emergency Health Services the man succumbed to his injuries and was pronounced deceased at the scene of the collision.
Two other occupants of the vehicle were transported to local area hospitals with non-life-threatening injuries.
The RCMP Integrated Collision Analysis and Reconstruction Service (ICARS) has been deployed to the scene to conduct a full investigation. The cause of the collision has not been determined but police are looking into the possibility that impairment may have been a factor.
Anyone with more information is asked to contact the Surrey RCMP at 604-599-0502. If you wish to make an anonymous report, contact Crime Stoppers at 1-800-222-TIPS or www.solvecrime.ca.