THE federal budget is drawing praise from Canadians on the centre-left, and ire from Conservatives, along with centrists concerned about deficit spending.

New data from the non-profit Angus Reid Institute indicates that while just over half of the country deem the first budget in two years to be "more good than bad" (49%) or "excellent" (4%), the rest deem it to be "more bad than good" (28%) or "terrible" (18%).

Among the items Canadians aware of the budget like best are new taxes on foreign homebuyers (54%) and on purchases of luxury items such as planes and boats (49%). The Trudeau government's showcase $10 a day child care program, meanwhile, is a favourite of two-in-five (41%).

On the other hand, the landmark amount of spending in the 2021 budget, and the associated debt it accumulates, drives concern. Indeed, asked what they don't like about this year's budget, this is the top answer, chosen by half of Canadians (49%). Further, Canadians are near evenly divided over whether the extraordinary times driven by the COVID-19 pandemic justify the amount projected to be spent, with half saying yes (51%) and the other half disagreeing. Significant gender divides drive opinion on both sides of this argument, as does politics.
Vote intention itself, however, has not budged. The Liberals have not gained a post-budget bump in momentum or support, nor have the CPC, leaving parties standing largely where they have been for the last month. The incumbent party maintains a slight but insignificant lead (34%) over the Conservatives (32%) as perceptions of ho-hum leadership at the helm of both parties leave voters uninspired.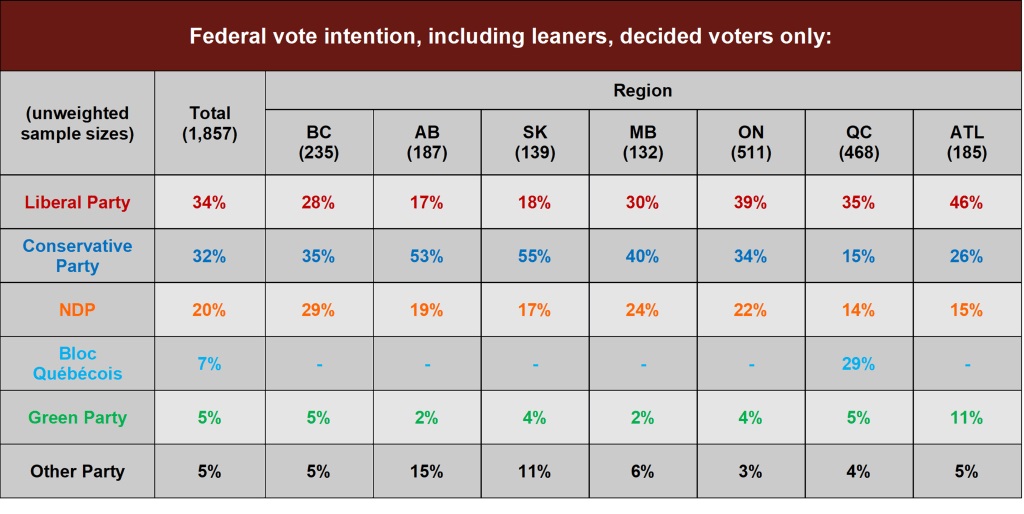 More Key Findings:
Half of women under 55 years of age say that $10 a day child care is an aspect of the budget that they like. It is the most popular element of the budget for young women (ages 18 to 34)
Erin O'Toole's favourability drops five more points this month. Just 24 per cent of Canadians view him favourably compared to 59 per cent who view him unfavourably
Just seven per cent of Canadians would be 'thrilled' with a Liberal majority in the next federal election, while 31 per cent would be 'content' with that result. One-quarter say they would be 'unhappy' (25%) or 'distraught' (27%)