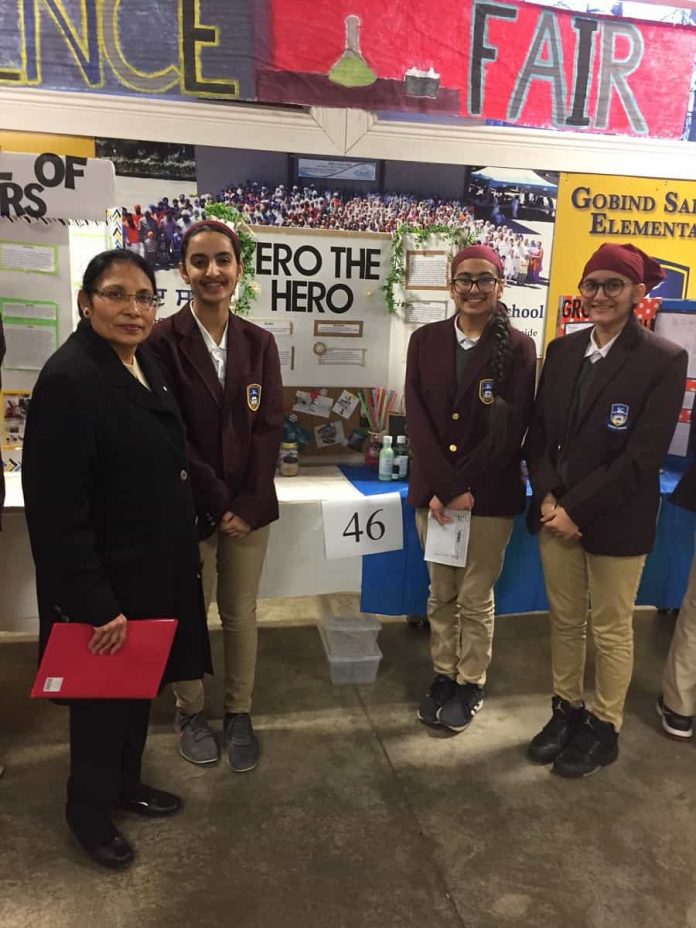 THIS year's Gobind Sarvar School Science Fair was a great success and was appreciated by all those who attended. Staff and students worked very hard to do a commendable job.
Grade 7 teacher, Mrs. Rekhi, was the coordinator of the Science Fair and was congratulated by Jasbir Singh Bhatia, Senior Principal.
Surrey MPs Sukh Dhaliwal and Randeep Sarai along with MLA Jagrup Brar attended the fair as did Surrey City councillors Laurie Guerra, Brenda Locke and Jack Hundial.

Last year, the school had 34 projects on display (grades 4 to 8). This year, they had 54 projects (grades 4 to 10). All projects selected as first, second and third by in grades 7, 8, 9 and 10 will be registered for participation in South Fraser Regional Science Fair.
KG and Grade 1 students worked on class projects and grade 2 and 3 students displayed their group projects.
Project / Names / Position
Grade 4:
RC1 / Sahej, Gurchetan, Gursimran, Debjot / 3rd
Sensor Door         / Prabhraj, Gursehaj, Harnoor, Sam / 2nd
The Future Sprinkler / Umberjot, Gurdit, Chirag, Alex / 1st
Grade 5:
Six Simple Machines / Jasjit, Gursimrat, Prabhleen, Kevin / 3rd
Extreme Machine Park / Harsimran, Varnoor, Jasmeen, Taranjot / 2nd
Amazing Machine Land / Parmnoor, Jobanjeet, Anmol / 1st
Grade 6:
Colour Blindness / Prabhjit, Bhapinder / 3rd
Homemade Speaker / Karman / 2nd
5 -Second Rule / Parm, Pahul, Navjot, Satnam / 1st
Grade 7:
Colour Under Pressure / Pabhvir, Amber / 3rd
Music to My Heart          / Gurjot, Priya / 2nd
Where the Bacteria Is!! / Jaikaar, Sukhmani, Rajdeep, Harkirat / 1st
Grade 8:
Moldy Fruits / Sehaj, Rohain / 3rd
Solid or Liquid? / Gurpreet, Gurnoor /        2nd
Balanced Right! / Navreet, Jotprakash / 1st
Grade 9:
Caught Blue Handed / Harnoor, Deepjot / 3rd
Growing Pains / Manjot, Gurpartap, Gurmat         / 2nd
Fall of Colours / Harlene, Navjit / 1st
Grade 10:
5-Second Rule / Dilraj, Thirbir, Tejvir         / 3rd
Fly Science  / Ramnik, Jivat, Harnoor / 2nd
Sweet Tooth         / Jagjot, Rooppriya, Jasmeen / 1st