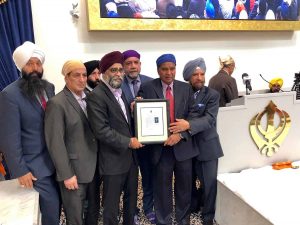 VANCOUVER'S Khalsa Diwan Society on Sunday held the Grand Opening of its Ross Street Gurdwara following restoration after fire damage as well as renovation and building extension work at Ross Street Gurdwara.
The Society's President Malkiat Singh Dhami, former president Jarnail Singh Bhandal and other office-bearers welcomed devotees as well as a host of dignitaries that included Defence Minister Harjit Sajjan and MPs Sukh Dhaliwal
and Randeep Sarai; Premier John Horgan and NDP MLAs, Leader of the Opposition Andrew Wilkinson and Liberal MLAs, Vancouver Mayor Kennedy Stewart and Vancouver City Councillors, Vancouver Police Chief Adam Palmer and Deputy Chief Steve Rai, and many others.
The Society, with over 10,000 members, is a pioneer Sikh society that was formed on July 22, 1906. It has played a major role in the social
and economic development of B.C. for over a century. It is a volunteer driven organization that provides religious and social services to the residents of Greater Vancouver.