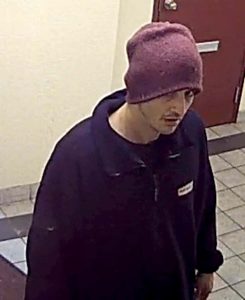 VANCOUVER Police are investigating an early morning assault in a West End apartment building, and are asking for the public's help to identify a person of interest who was captured on security footage.
Just before 3 a.m. on Saturday, a woman reported that a man followed her into an apartment building on Bute near Pendrell streets and then attacked her.
She did not know the man, and the incident appears to be isolated. Investigators believe that the assault was sexually motivated.
The man was described as white, in his 20s or 30s, with a slim build, short dark hair, and dark facial stubble. He was wearing a burgundy toque, a black zip-up jacket, blue jeans, and possibly walked with a limp.
The investigation is ongoing and detectives are asking anyone with information about this incident, or anyone who may recognize the person-of-interest, to call Vancouver Police's tip line at 604-717-0601 or Crime Stoppers anonymously at 1-800-222-8477.