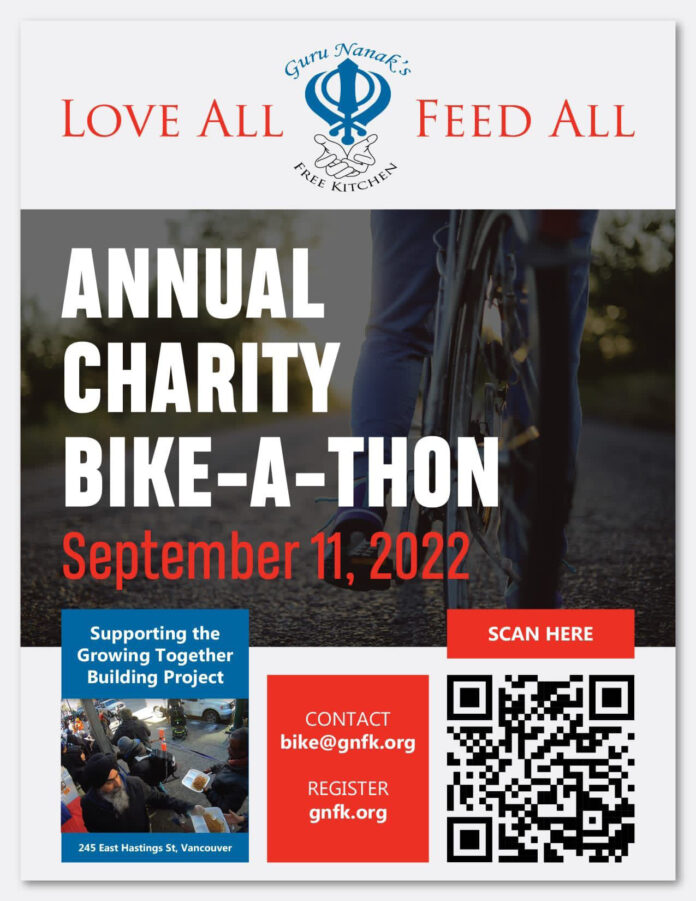 GURU Nanak's Free Kitchen (GNFK), a registered charity, is hosting its second annual bike-a-thon on September 11. This fundraising event hopes to raise at least $100,000 towards the building fund — for 245 East Hastings Street in Vancouver — where free hot nutritious meals and drinks will be served seven days a week to those in need, primarily to the residents of the Downtown Eastside.
"Last year's bike-a-thon was a tremendous success, from Mission to Surrey, with over 100 cyclists and walkers enjoying the occasion," says Bal Sidhu, Event Coordinator.
This year, GNFK has decided to choose a new route starting and finishing at New Westminster via Richmond.
"Everyone's welcome to join this great fun-filled event for a worthy cause and meet like minded people," adds Sidhu.
People are encouraged to visit www.gnfk.org and click on the bike ride tab. Furthermore, registrants will receive a welcome pack which will include a t-shirt, water bottle, granola bar, etc. The route will be marked and registrants can choose their own level (beginners, intermediate and advanced). Those without bikes can attempt a 15km walkathon.
GNFK is a volunteer based organization and, hence, receives no government funding. All funds will go towards the renovation of the building at 245 East Hastings Street in Vancouver. Since its inception in November 2006, GNFK has served over 1,125,000 free hot meals to those in need from its food truck. GNFK aims to keep growing with community support so that it can serve thousands more.