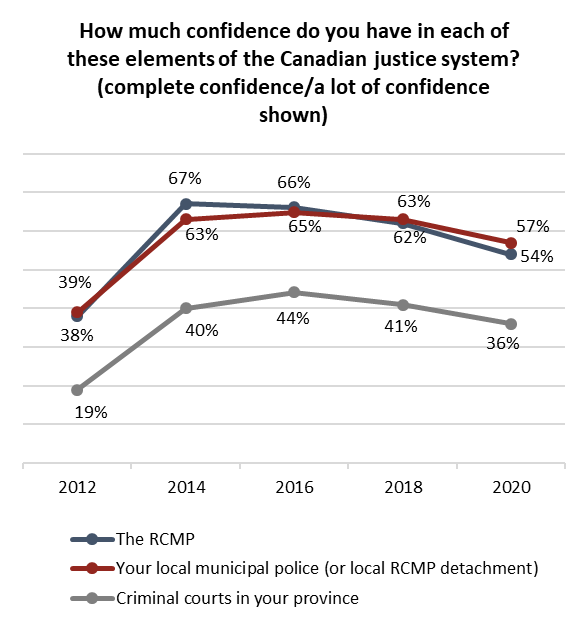 CRIME rates in Canada dropped precipitously from 1991 until 2014, falling more than 50 per cent during that period. Since then, however, crime rates have ticked upward in each of the past four years for which data is available.
A new study from the Angus Reid Institute, the latest in a biennial series gauging Canadians experiences with and opinions of the justice system, finds public perceptions in their communities following that same trend.
Indeed, half of Canadians (48%) now say that crime has increased in their community over the past five years, up from 42 per cent in 2018 and 30 per cent in 2014.
The proportion of Canadians holding this view is considerably higher in the western provinces of British Columbia, Alberta, Saskatchewan and Manitoba. In each region, six-in-ten residents or more say they are perceiving more crime now than five years ago.
Additionally, confidence in the RCMP and local police forces continues to decline. While at least half of Canadians still have confidence in each organization, the proportion saying this dropped in 2018 and again in this latest data.
More Key Findings:
Confidence in the RCMP is down eight percentage points from 2018. Notably, the number of visible minority residents who say they have 'no confidence at all' in the RCMP is double that of non-minorities (17% to 9%)
15 per cent of Canadians say that they have personally been the victim of a crime in the past two years that involved reporting to the police. This represents an increase of six points from 2014
Opinions of the Supreme Court of Canada are significantly more positive than those of provincial courts. Approximately half (48%) say they have confidence in the SCOC while just 36 per cent say this of their own provincial courts