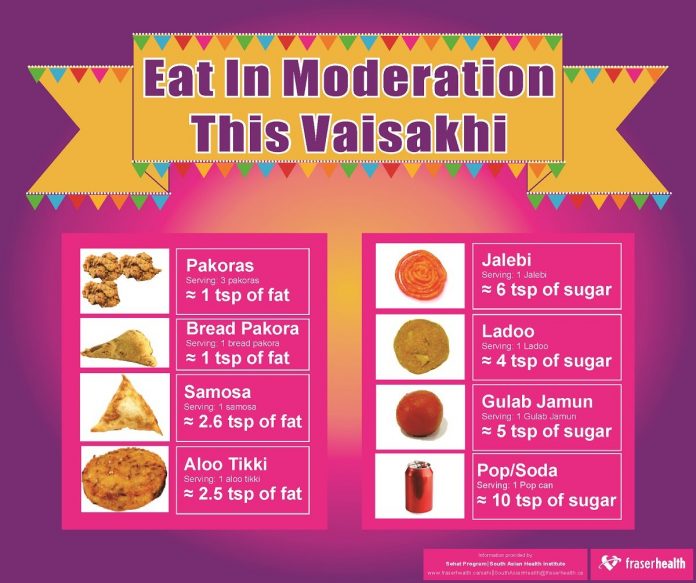 VAISAKHI is a time for family, religious celebration and of course, food! As over 500,000 people prepare to attend the community parade in Surrey with their loved ones, here are some healthy eating and food safety tips from Fraser Health for a fun and happy Vaisakhi.
Healthy eating:
With so many festive dishes to choose from, it's easy to get carried away when you're celebrating Vaisakhi with friends and family at home or in the community.
Here are few tips to keep in mind to help you make good choices:
o   Whole foods are naturally low in salt, sugar and fat, and high in fibre. So choose whole foods such as whole grain rotis, dahls, sabjis, fruits, and other vegetables. Some fibre can even help control blood sugar levels.
o   Pack snacks like apples and water for your whole family to eat and drink on parade day. Avoid juice boxes, pop and chai with added sugar.
o   Limit grains that have been deep fried such as pooris, bread pakoras, vegetable pakoras and samosas as they tend to be high in fat and salt. A samosa is like eating 12 ml (2.5 tsp) of fat and three pakoras are like eating 5 ml (1 tsp) of fat.
o   Consume sweets in moderation – remember one jalebi equals 30 ml (6 tsp) of sugar, one ladoo equals 20 ml (4 tsp) of sugar. Eat just half of one instead.
Walk the parade route with family and friends. Not only is this a great way to socialize and enjoy the weather, walking also increases your energy, elevates your mood, decreases stress and anxiety and keeps your heart healthy.
Food safety:
If you plan to serve food along the commercial roadways, you need to get a free Temporary Food Premises Permit from Fraser Health to serve food to the public.
Health inspectors will be visiting vendors to ensure they are following appropriate food safety practices and that they have the necessary permits.
People serving food from their homes during the Vaisakhi parade do not need to apply for a temporary permit.  It's important to still follow good food safety guidelines to reduce the risk of food borne illness.
You can also consider serving items that do not require a permit like bottles of water, whole fruits such as apples, bananas; and other commercially prepackaged items such as assorted nuts.
Here are a few things to look out for as you enjoy the food at the parade:
o   Is there a hand washing station in the food stall for food handlers to wash their hands?  Good hand washing is one of the best ways to prevent food borne illnesses. Alternatively, are the people serving food wearing gloves?
o   Is hot food being kept hot, and is cold food being kept cold?
o   Is the food being kept off the ground?
o   Do they have a food permit and is it displayed?