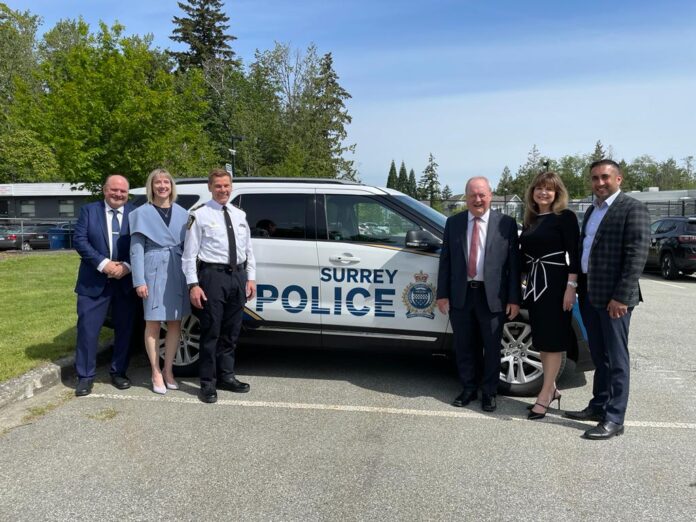 FORMER Surrey mayor Doug McCallum on Friday thanked the Province of British Columbia and Minister of Public Safety Mike Farnworth for making the "right decision" to recommend continuing with the transition to the Surrey Police Service (SPS), a move that McCallum calls a victory for the people of Surrey and believes is in the best interest of Surrey and its taxpayers.
"The Province has recognized that the transition to SPS is the best option for Surrey and the entire province," said McCallum. "I want to thank Minister Farnworth and the Province for their support in this important matter. With the ongoing RCMP vacancy challenges, it is clear that a municipal police force is the best way to ensure public safety in our community."
McCallum also emphasized that it is time for the City to move forward and focus on implementing the SPS. He said: "The people of Surrey deserve a safe and secure community, and with the Province's financial assistance, we can ensure that there will be no additional costs to Surrey taxpayers. It's time to put this debate behind us and work together to make Surrey an even safer place to live, work, and raise a family. This is a victory for Surrey residents who deserve the best modern urban police force."
McCallum also explained why the RCMP is not the best option for Surrey. He pointed out: "The RCMP has faced recruitment and retention challenges that have led to a shortage of officers, which is not something we can afford in Surrey. We need a police force that is fully staffed, diverse and dedicated to serving our community's needs. The SPS will provide us with that level of service, professionalism and more boots on the ground."
The Province has pledged financial support to the City of Surrey in the transition to SPS to ensure that there will be no significant property tax increases for residents. "It's important to note that going back to RCMP will be a bigger financial burden for taxpayers compared to continuing with SPS. The transition to the SPS is well advanced, with approximately 400 officers and support staff already hired," added McCallum.
"This is a positive step forward for Surrey and the Province," said McCallum. "We are grateful for the Province's support, and we look forward to continuing to work together to ensure that Surrey remains a safe and welcoming community for all."