CBC'S Brady Strachan has produced an amazing report — "Mountie's anti-Trudeau website raises concerns about discriminatory views within the RCMP" — exposing the worthlessness of the top RCMP brass in BC when it comes to taking swift action against fellow Mounties to protect our democracy and rights and keep their fascist behaviour in check.
"Police officer's satirical website pokes fun at prime minister, LGBTQ+ issues and immigration policy," reads the sub-heading.
This report vividly shows why the RCMP in B.C. – AND ESPECIALLY IN SURREY – need to be replaced.
These guys as a group will never shed their biases and they will never learn how to behave themselves in a multicultural, diverse society. They are misfits, though there are some great individuals in the force; however, they are hopelessly trapped in an outmoded, crumbling organization.
How can minorities — ESPECIALLY SOUTH ASIANS — trust these guys? Remember, in Surrey, the RCMP supporters made fun of a proposed municipal police force as 'New Delhi Police', implying that South Asians are corrupt? There will never be peace and security in Surrey with the RCMP!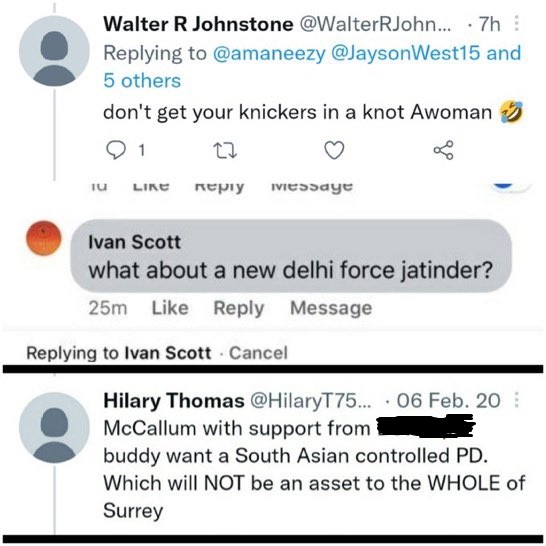 STRACHAN found that "The Church of Trudeau" website was online last November and early December and that the man in photos and videos on the website was an RCMP officer from Trail, B.C.
"Some of the website's contents and related social media accounts, including Twitter, Twitch, YouTube and Facebook are still publicly available through the Internet Archive Wayback Machine and search engines' web cache," Strachan reported.
In one of the videos, the Mountie sarcastically praises "Prime Minister Justin Trudeau and government funding announcements for a Saskatchewan First Nation community and the LGBTQ+ community."
And in another video, he mocks the federal immigration policy and claims the goal of the policy is to bring in 1.5 million Liberal voters to Canada.
Strahan reported that Trail Mayor Colleen Jones claimed that she has had numerous discussions with the Trail RCMP detachment commander about it. She added: "I want everybody to know that we are taking it seriously and that the officer in question is currently working from home and will continue to do so until the investigation is complete."
This kind of approach shows the problem of disciplining Mounties who are answerable only to Ottawa – NOT TO VICTORIA!
Why weren't the Mounties aware of this disgraceful conduct all this time? Why did they take so long to start taking some kind of action about it?
Wow, they had SEVEN Mounties chasing after then-Surrey mayor Doug McCallum's "nuisance" charge that the court ultimately threw out in contempt for their ludicrous investigation!
The Mounties' top brass in B.C. and Surrey should be replaced immediately!
VOICE Opinion Column