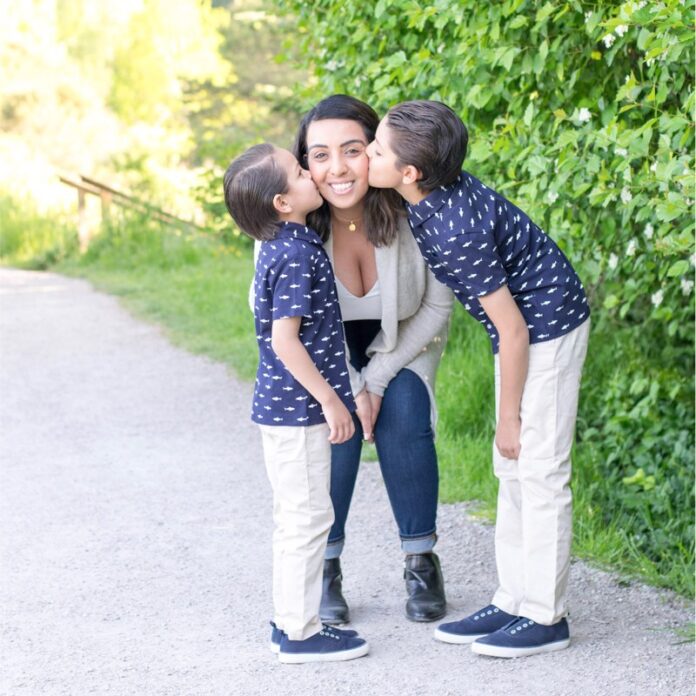 FAMILY is everything to Rupa Marcus. Deeply proud of her Punjabi roots, her favourite childhood memories are of being surrounded by family – her parents, brother, sister, cousins, aunties and uncles, all hanging out, with the irresistible smell of homemade samosas wafting through the air. "I remember my mom and my aunties working their magic in the kitchen," she says. "Every weekend was a sweet and savory food-filled event."
These wonderful memories still inspire Rupa today, who is a trailblazer in her industry, a wife, a mom-of-two, and now the new owner of Chalo! FreshCo in Strawberry Hill (at the corner of 120th St. and 75A Ave).
As a child, Rupa used to accompany her parents to the supermarket every Sunday. The excursion was always a family affair. Little did she know at the time, that such grocery aisles would one day become her second home, as she built an impressive career in food retailing.
Twenty-two years ago, as a student, Rupa took on a job as a part-time clerk, answering phone calls and doing "put-aways." She grew up the ranks quickly over the years, and prior to taking on this entrepreneurial journey with Sobeys (the parent of Chalo! FreshCo), Rupa was a store manager at another store in the community. Today, she is excited to make this new opportunity her own.
"I want my customers to walk into my store and feel like they are at home – to come and meet me, and ask for me by name when they return," says Rupa. "I want them to know they can get whatever they need, from milk and bread to haldi and methi, that we will always have the staples they are looking for, guaranteed."
Rupa admits that her sister inherited her mom's extraordinary talents as master Indian chef at home, but if you want an unforgettable pasta experience, Rupa is happy to report that her kitchen is the place to be.
"I love that our store reflects the way Canadians want to shop," adds Rupa. "Get your McCain fries, your Haldiram snacks, desi-licious pistachio ice cream, and my personal favourite, a Drumstick, all in one place."
Back in the day, Rupa remembers how South Asians had very limited choices. "I remember Golden Temple atta was the only choice for our rotis, which was a great product, but today, Chalo! FreshCo has more varieties of atta than we can count on our fingers! We've all come a long way."
Coming in as the new owner of this Chalo! FreshCo, one of Rupa's top priorities as a South Asian leader is to connect with the community. Her vision is to do some kind of seva with local temples, mosques, churches, gurdwaras, community groups and food banks. Rupa says: "Our team is here to support the community, and my wish is for people to tell their friends, 'Go see Rupa at Chalo! FreshCo on 120th. She always does whatever she can to take care of you.'"
Chalo! FreshCo is the South Asian community's one-stop store for all South Asian and Canadian groceries. Get all your South Asian favourites, fresh produce, Fraserview Meat and Seafood, and quality Halal products from Taqwa Halal Butcher. Everyday low prices are guaranteed with three promises: 1) Double fresh guarantee, 2) Lowest price guarantee, and 3) In-stock guarantee.
And when they say low price guarantee, they mean low price guarantee. They don't just price match on staples. They beat prices on staples.
Details are available at: www.ChaloFreshCo.com. Visit any one of three Chalo! FreshCo locations with in-store pharmacies, in Strawberry Hill, Newton or Abbotsford.