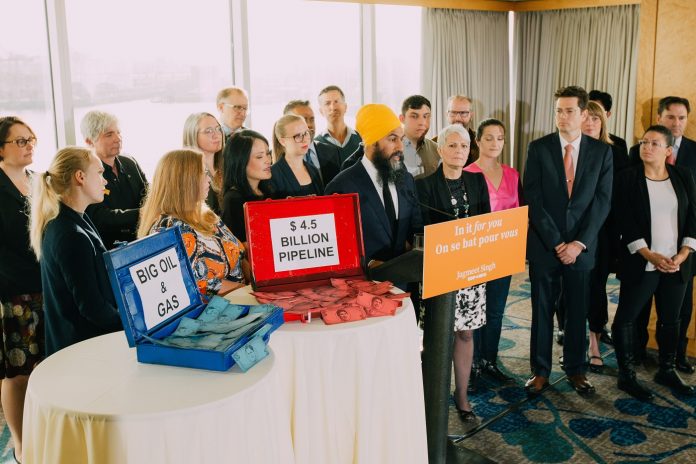 Jagmeet Singh takes on money launderers and housing speculation
MORE affordable homes and a real plan to fight the climate crisis are at the heart of a New Deal for B.C. unveiled on Wednesday by NDP Leader Jagmeet Singh.
"When B.C. families asked for help with the out-of-control housing market, Justin Trudeau spent $4.5 billion of their money on a pipeline instead," said Singh. "Liberals and Conservatives have failed people here for too long. British Columbians deserve a real partner in Ottawa: a New Democrat government that has the courage to do what's right to make sure that everyone has an affordable place to call home."
According to the NDP, while the B.C. government has done the hard work to tackle the housing crisis, Trudeau has failed to do enough on the money laundering and speculation that's driving up real estate prices. The NDP's urgent action plan includes a dedicated RCMP unit to fight money laundering and a national registry that prevents companies from hiding who profits from real estate, along with a tax on foreign buyers to address housing speculation.
"New Democrats understand the priorities of British Columbians, and we will fight for them," said Singh. "Working families have paid the price long enough for the pretty words and empty promises. We'll take real action to make housing more affordable, because we're in it for you."
The NDP's plan to make life more affordable for B.C. families includes bringing down the cost of cell phone bills, and bringing in dental care and universal prescription drug coverage. New Democrats say they will also fight the climate crisis with a bold plan to defend Canada's land, water and coasts, while creating good-paying jobs that families can rely on.

Quick Facts:
In April 2019, B.C.'s expert panel reported that money laundering funded $5.3 billion in real estate purchases and was responsible for increasing housing prices by 5% across the province. [1]
The report found that B.C. didn't have a single federal RCMP officer dedicated to investigating money laundering.
Currently, it would take the average young person 29 years to save enough money for a down payment on a home in Vancouver. [2]
The NDP's plan will immediately create a dedicated RCMP anti-money laundering unit – with B.C. as a priority. We will invest $20 million in additional funding each year, half of which will go to B.C., to ensure that dedicated officers work on money laundering.
Building on the leadership of the B.C. government, the NDP would require corporations, trusts and partnerships that currently own or buy land to disclose who owns them by creating a national beneficial ownership registry. Tax authorities, police, and regulators would be able to use the information to crack down on tax evasion, fraud, and money laundering.
The NDP will also bring in a national foreign buyer's tax to curb speculation that's fueling high housing prices. The 15% Foreign Buyer's Tax will apply on the sale of homes to individuals who aren't Canadian citizens or permanent residents, on top of existing provincial taxes. This will raise an estimated $320 million in the first full year of implementation.