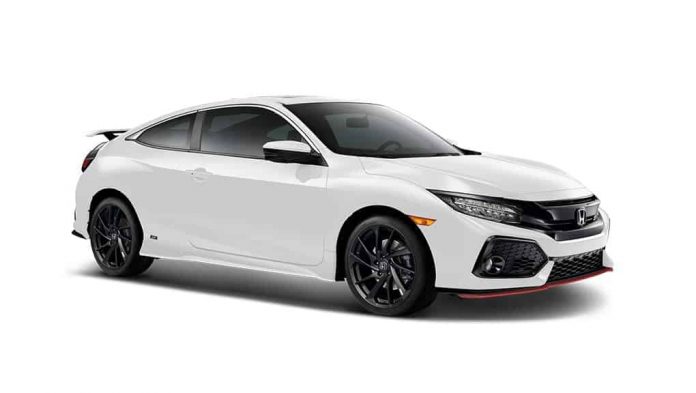 Honda Canada injects even more sport performance into what's already the most robust offering of Civics in its history with the Civic SI HFP (Honda Factory Performance). Building on the architecture of the award-winning 10th generation Honda Civic, the Si HFP adds dynamic features such as a sporty suspension with active dampers that offers comfortable drives for a daily commute, while capable of tracking on the weekends. The Civic Si HFP is on sale at dealerships nationwide with a starting MSRP of $34,390. 
While the awesome Honda Civic Type-R is the superstar of the Civic lineup, the 2018 Honda Civic SI Coupe is the milder, but no lesser sports orientated version of the popular Civic. Designed to appeal to the Fast and Furious generation, there is a lighter curb weight, a stiffer body structure, and sport tuned chassis, a lower ride height, combined with a sport orientated suspension, and performance 18-inch tires on alloy rims.  Power for the SI is courtesy of a 1.5-litre turbocharged four-cylinder engine producing 205 horsepower  and 192 pound-feet of torque,  hooked up to a six-speed manual transmission via  front-wheel drive
The Si comes extremely well equipped with dual-zone climate control, an electronic parking brake, an infotainment system with seven-inch screen as well as Apple CarPlay and Android Auto integration, The Civic Si coupe is roomy enough, while the four door Si offer more practicality of you haul passengers around most of the time . However, the Si coupe's 289-litre trunk is fine
Accentuating an already bold design is a host of cosmetic additions including a front lip spoiler that adds a subtle, yet fierce look, complemented by side skirts designed to improve downforce for a sporty drive that marries the look with the feeling behind the wheel. Sitting on 19" HFP matte black alloy wheels, the Civic SI HFP is paired with Michelin Pilot 4S tires that look as good parked in the driveway as the do on the track. To complete the look, bold red and black Civic Si HFP badging is added to the side and rear of the vehicle.
On the inside, performance-inspired red and black HFP floor mats complement the leather-wrapped shifter with red stitching, all in addition to the robust host of features already included in the Civic Si model.
 Both Sedan & Coupe form with available colours – White, Black & Red (Red – Coupe only).  Pricing starts at $34,390 for Sedan & $34,790 for Coupe. For more information, please visit Honda.ca.