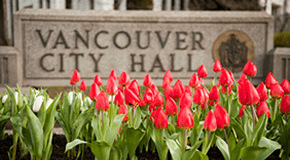 VANCOUVER City Council on Wednesday approved a new funding mechanism for essential public utilities to ensure that sewer, water and drainage systems will continue to meet the needs of residents and businesses as Vancouver grows.
"According to regional and city estimates, one million people are expected to arrive in the metro region, with over 150,000 of those expected in Vancouver by 2041," said Jerry Dobrovolny, General Manager of Engineering Services for the City of Vancouver. "This new approach to funding our critical infrastructure, such as water and sewer, will be key to ensuring that we are able to continue providing appropriate service levels that lead to a safe and healthy city for our residents, businesses and institutions."
This infrastructure expansion required to accommodate this growth is estimated to cost $1 billion. To ensure that the costs of this growth are shared between the City and property developers, and not solely as a tax burden for residents, Council has approved a new Utilities Development Cost Levy (DCL) to be paid on all new city-wide projects.
The new Utilities DCL will cover approximately 50% of this infrastructure expansion, and provide more clarity on what public work the City will be constructing, timing of that work and requirements for developers.
An existing DCL already helps to fund community amenities and facilities such as parks, childcare centres, and social and non-profit housing.
The City said that it and the development community have a shared responsibility to keep Vancouver livable by ensuring that new neighbourhood growth and density is supported with community amenities and necessary infrastructure.
Nearly 90% of the 2,300 respondents to an April 2018 Capital Planning survey identified water and sewer infrastructure as the top two most important City assets. Without upgrading utilities infrastructure capacity, there is an increased risk for insufficient water for fire protection, overland flooding and compromised sewer systems.
This city-wide utilities financing strategy will be first applied to the Cambie Corridor. Sewer and water systems will be upgraded in stages as the planning and construction in for this area develops.
Phase 3 of the Cambie Corridor plan was approved by Council in May 2018, and more than 1,700 single family lots will be opened up for new types of housing as part of the transformation of low-density neighbourhoods set out in the Housing Vancouver strategy.