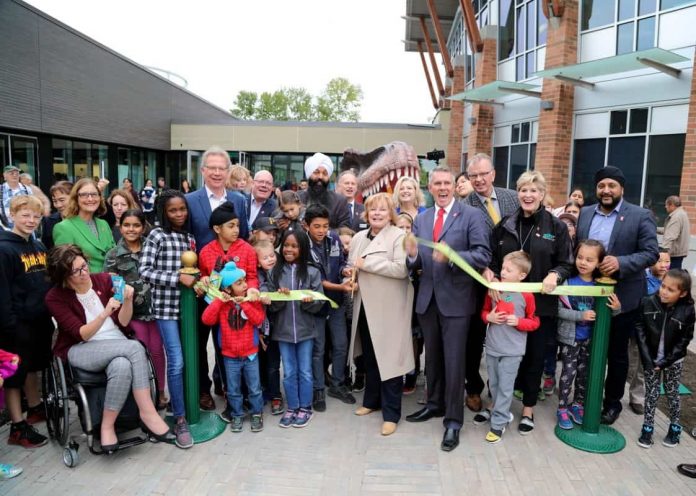 IT was a day of anticipation and excitement on Saturday, September 29 as Surrey residents, visitors and local dignitaries gathered for the ribbon-cutting ceremony and grand opening of the expanded Museum of Surrey and surrounding cultural campus.
"Today we are celebrating a re-envisioned community hub that invites connection and ignites imagination," said Surrey Mayor Linda Hepner. "This dynamic cultural space is vibrant and interactive—a place where residents and visitors can come together to discover, share, learn and most importantly have fun."
In addition to dynamic local, national and international exhibits, the 36,000 square-foot museum is home to the TD Explore Zone for kids (an interactive exhibit for children developed around the theme of sustainability in Surrey), a Textile Centre (a working textile studio featuring looms, demonstrations and a textile collection), an Indigenous Hall (a unique exhibition space designed and curated by Surrey's three land-based Nations—Semiahmoo First Nation, Katzie First Nation and Kwantlen First Nation), as well as a 2,500 square foot feature gallery, café, and wifi-equipped study, gathering and rental spaces..
The expanded cultural campus is now home to a collection of new and historic buildings, including: Cloverdale Library, Veteran's Square, Surrey's first Town Hall (built in 1881), Surrey Archives (Surrey's former municipal hall built in 1912), Anderson Cabin (built in 1872), and Anniedale School (opened in 1891). The campus will be further transformed in 2019 with the addition of Kwantlen First Nation public art.
"Today is a significant milestone celebrating a new addition to Surrey's thriving heritage and culture scene," said Surrey Councillor Judy Villeneuve, chair of the Culture Development Advisory Committee. "This facility, as well as the delivery of its programs, services and special events, will support a vibrant and engaged community, Surrey's cultural groups and creative industries."
Of the $15,861,844 total cost, the Government of Canada contributed $4,464,575 toward the project under the Provincial-Territorial Infrastructure Component – National and Regional Projects, as well as $477,269 under the Canada Cultural Spaces Fund. In addition, TD Bank Group donated $500,000 ($100,000 per year) in operating grants toward the TD Explore Zone.
The first blockbuster exhibit, running now through March 31, 2019, is Dinosaurs Unearthed. It combines life-sized animatronics with full-scale skeletons, fossils, interpretive content and interactive activities.
The (then named) Surrey Museum first opened in 1938 inside the old 1881 Town Hall when it was relocated to the Cloverdale Fairgrounds. The recently expanded building, located at 17710 56A Avenue, was built in two phases: phase one was completed in October 2005 (24,000 square feet) and phase two was completed in September 2018 (adding an additional 12,000 square feet).
Free admission to the Museum of Surrey is sponsored by the Friends of the Surrey Museum and Archives Society. Hours are: Tuesday to Saturday, 9:30 a.m. to 5:30 p.m.; Sunday, noon to 5 p.m.; and closed Mondays.
For more information, visit surrey.ca/museum.