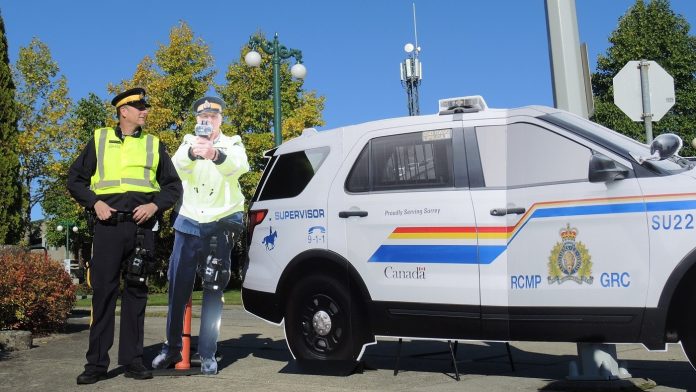 SURREY RCMP announced on Monday that they had encouraging results from the first three months of 'Operation Double-Take', a road safety initiative that was launched in partnership with Vision Zero Surrey and ICBC.
In October 2019, cut-outs of a Mountie and an RCMP cruiser were deployed across the city, in areas identified as high-collision locations, with the goal of making our roads safer by decreasing the speed on streets.
Over the first three months of the initiative, the cut-outs were deployed to the following locations:
1) 8800-block of 144th Street
2) 17100-block of Fraser Highway
3) The intersection of 28th Avenue / 184th Street
4) 12500-block of 96th Avenue
At these locations, speed recording equipment was installed before, during and after the deployments so that any variation in driving habits relating to speed could be accurately monitored. The initial data collected shows:
* On average, the deployment of the cut-outs resulted in a 12% decrease in the speed of vehicles.
* The number of drivers complying with the posted speed limit doubled while the cut-outs were deployed.
"The decrease in average speed we have seen following this initiative is encouraging," said Sgt. Ian MacLellan, Surrey RCMP's Traffic Services Commander. "Operation Double-Take will be continuing to target various high-collision intersections and areas around the city where high-risk driving behaviours have been identified, often with our officers conducting concurrent enforcement."
"Speed reduction is a key focus of Vision Zero as higher speeds increase the likelihood and severity of crashes," said Shabnem Afzal, City of Surrey Road Safety Manager and Vision Zero Surrey lead. "Our analysis shows that this initiative has had the intended results and is contributing to lowering speeds in problem locations."