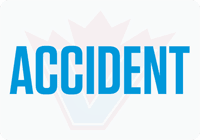 THE New Westminster Police are seeking witnesses for a collision involving a pedestrian. On April 25 at approximately 9 p.m., a 69-year-old female was struck by a driver as she was crossing 6th Avenue at 6th Street. When police arrived, the pedestrian was receiving aid from both Emergency Health Services and the New Westminster Fire Department. She was transported to local hospital with serious injuries. The driver remained on scene and has been cooperative with police.
Investigators will be reviewing video surveillance from the area and are asking any witnesses to come forward. The Vancouver Police Department Collision Investigation Unit and Metro Vancouver Transit Police assisted the New Westminster Police Department.
"Our investigators will need some time to gather evidence, including speaking to witnesses and collecting CCTV footage to determine exactly what occurred here," said Sgt. Sanjay Kumar on Monday. "This would have been an upsetting event to witness and anyone who did witness this is encouraged to reach out to our Victim Assistance Unit."
Anyone who witnessed this event and have not yet spoken to investigators is encouraged to call 604-525-5411. Witnesses who are in need of support can call the Victim Assistance Unit 24 hours a day at 604-529-2525 or email VAU@nwpolice.org.