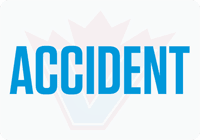 A pedestrian who was struck by a charter bus in the 7200-block of River Road in the Tilbury area just before 11:30 p.m. on Saturday (October 27) was pronounced dead at the scene.
The pedestrian, a male in his 40s, appears to have been struck while attempting to cross River Road, according to Delta Police. The bus was travelling eastbound, and it was raining and dark at the time of the crash. The driver of the bus remained on the scene. There were no passengers on the bus at the time of the crash.
"Police are actively investigating this crash, and are asking for any witnesses who have not yet spoken to police, or for anyone who may have relevant dash cam video, to contact Delta Police at 604-946-4411," said Cris Leykauf, public affairs coordinator for Delta Police, on Monday.
The man's next of kin has not yet been located by police, so further details are not being released at this time.
"Delta Police are very troubled to experience a second pedestrian fatality in our city in less than a week," said Leykauf. "We also had another instance on the weekend where a driver struck a pedestrian in North Delta, fortunately resulting only in a minor injury."
Pedestrians venturing out at night are urged to have reflective clothing or lights so they can be easily seen. Drivers need to be aware that now that days are shorter, and often gloomy, that pedestrians can be hard to spot, particularly if they are wearing dark clothing.