THE blockade crisis surrounding the Coastal GasLink pipeline project has had the country in its grips for weeks now, and the political fallout from it does not appear to have been kind to the provincial leaders at the centre of it, says the Angus Reid Institute.

In British Columbia, Premier John Horgan's job approval has dropped 10 points, from 56 per cent in December to 46 per cent now. In a survey published by the Angus Reid Institute last week, just 18 per cent of British Columbians said Horgan had handled the Wet'suwet'en protests and solidarity blockades well, while 65 per cent said he had done a poor job.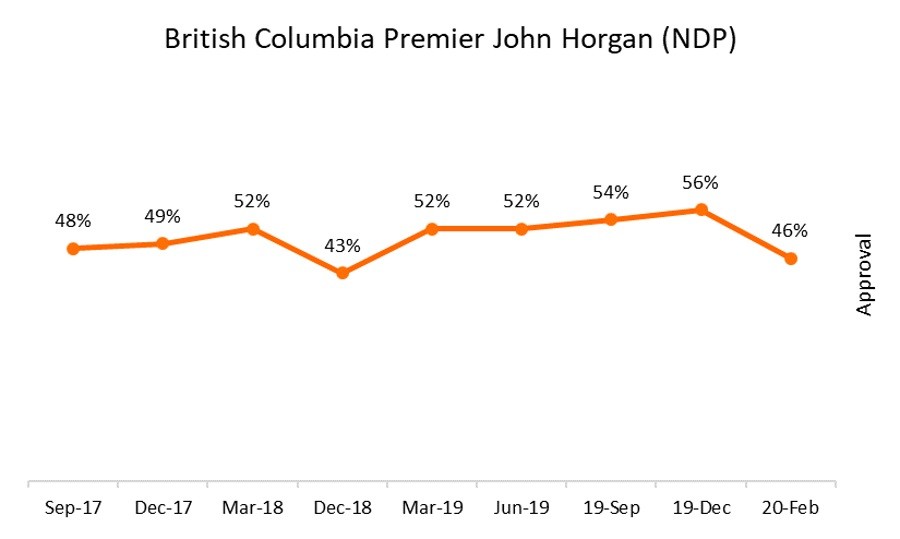 In Alberta, Premier Jason Kenney's approval has also slipped below the majority mark: It is down seven points to 47 per cent.

It comes as the Alberta government introduced the Critical Infrastructure Defence Act, which would impose "stiff new penalties on law breakers who purposefully block critical, essential infrastructure, such as railways, roadways". Some legal observers have questioned whether the law may infringe on protesters' Charter rights.
Ford's continued fall
Just under one-third (31 per cent) of Ontarians now say they approve of Ontario Premier Doug Ford's job performance. Ford recently praised U.S. President Donald Trump on a trip to Washington, while criticizing the Democratic leadership in the country. This, after last year referring to himself as a "big Republican". Seven-in-ten (71%) Ontario residents say they have a negative view of the U.S. President, suggesting Ford's comments may not be helping. Meanwhile, at home, Ford's government is dealing with rotating strikes from the teacher's union who are protesting increases to class sizes, mandatory online classes and other changes the provincial government has made to education policy. Ford's job approval has declined a total of 11 points overall since the June 2018 Ontario election.