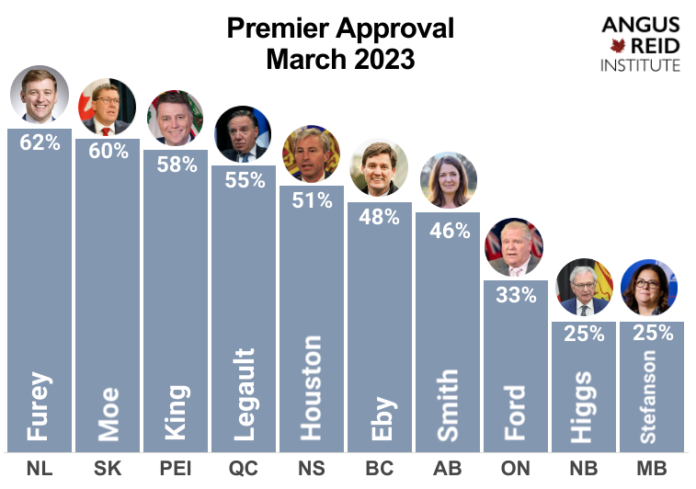 B.C. Premier David Eby enjoys 48% approval with more people approving (42%) him than disapproving (33%) him
THREE of Canada's premiers will be particularly focused on renewal of mandate, growth in population, and rejuvenation of their political fortunes this spring. But while one appears to be establishing the roots for a sympathetic election campaign, another has more soil to till.
The latest data from the non-profit Angus Reid Institute finds P.E.I. Premier Dennis King and Manitoba Premier Heather Stefanson at opposite ends of the approval spectrum as both leaders seek re-election this year. King is approved by approaching three-in-five (58%) of his constituents as the island heads to the polls in April; Stefanson by one-quarter (25%) as Manitoba will vote on her future this fall. In between lies another premier in an election year, Alberta's Danielle Smith, with approval of 46 per cent of Albertans.
Stefanson is not alone at the low end of the approval landscape. She's joined this quarter by New Brunswick Premier Blaine Higgs, who also is approved-of by one-quarter of his constituents as positivity towards him continues to decline. As well, Ontario's Premier Doug Ford finds himself at the edge of the approval valley (33%) as his government weathers a scandal over Greenbelt development in that province.
Enjoying life among the approval peaks alongside P.E.I.'s King are Newfoundland and Labrador Premier Andrew Furey (62%), who climbs to the top after a more negative 2022; Saskatchewan Premier Scott Moe (60%); and Quebec Premier François Legault (55%).
The middle of the pack – Nova Scotia's Tim Houston (51%) and B.C.'s David Eby (48%) – can hang their hats on the fact that more people approve of them than disapprove (42% and 33% respectively).