(Photos of rally for Sidhu Moose Wala in Surrey below)
Chandigarh (IANS and other reports): In less than 24 hours after his security was cut  by half by the Punjab state government, singer-turned-politician Sidhu Moose Wala was shot dead by gangsters close to his ancestral village in Mansa in Punjab around 5:30 p.m. on Sunday, police said. He was 28 years old.
The Punjab Tribune reported that his security was reduced by half by the Bhagwant Mann-led AAP government. Two of the four police personnel on his security duty had been removed. Moose Wala was without security when he was targeted. Punjab Police said that he had been given two Punjab Police commandos for protection, but had refused to take them along.
Ironically, Shubhdeep Singh Sidhu Moose Wala, aka Sidhu Moose Wala, was once booked for promoting gun culture and violence in his song "Sanju."
According to Indian media, Punjab Police said that Moose Wala was driving in his Mahindra Thar after he left his house around 4:30 p.m. He was with with his neighbour Gurwinder Singh and cousin Gurpreet Singh (cousin). When Moose Wala arrived at Jawahar Ke village, he was followed by a white Corolla. He was intercepted from the front by two vehicles, including a white Bolero and a dark grey Scorpio.
The attackers riddled Moose Wala's vehicle with bullets, injuring the singer and two friends. The singer was taken to a nearby hospital where he was declared dead. His friends were seriously injured.
Police said that he was travelling in a vehicle that was not bullet-proof. Normally, he used his bullet-proof Toyota Fortuner for travelling. Police said 30 cartridges had been found at the crime spot and it is suspected that three 9 mm pistols were used in the attack.
Police have detained some persons in Bathinda over their alleged links with a "Canada-based gangster" and the Lawrence Bishnoi gang for their suspected involvement in Moosewala's murder.
The Tribune of Chandigarh reported that Punjab Director-General of Police, VK Bhawra, told the media on Sunday that according to their initial investigation, the killing was linked to the murder of student leader and Youth Akali Dal member Vicky Middukhera, who was gunned down last year on May 4. He said Moose Wala's former manager Shaganpreet Singh was one of the suspects in Middukhera's killing. It was alleged that the four assailants had stayed at his house. Shaganpreet who was questioned by the Punjab Police, later fled to Australia.
The Tribune reported that Bhawra claimed that Moose Wala's security cover was scaled down to free personnel for deployment during the Operation Bluestar anniversary next month.
(Moose Wala's "Back 2 Business" concert had been scheduled for July 23 at the Pacific Coliseum in Vancouver, but the ticket sales were put off until June 4, because the PNE was reassessing security concerns with police in view of the large numbers that were expected to attend, according to their spokesperson Laura Ballance. See below for link to story)
Media reported that BJP leader Manjinder Singh Sirsa from New Delhi had questioned the Punjab state government for leak of the orders of the withdrawal of security from 424 persons. He said that making such a list public was dangerous to those under security arrangements.
I urge @HMOIndia to order an enquiry into how & who leaked the confidential list of people whose security was withdrawn by @AAPPunjab Govt@ArvindKejriwal & @BhagwantMann are responsible for the brutal killing of #SidhuMoosewala whose security was withdrawn yesterday@ANI https://t.co/aDeljpY8Hr

— Manjinder Singh Sirsa (@mssirsa) May 29, 2022
Punjab Chief Minister Bhagwant Mann expressed shock over the killing and appealed for calm. He tweeted: "I am Shocked and Deeply saddened by the gruesome murder of Siddhu Moosewala. Nobody involved will be spared. My thoughts and prayers are with his family and his fans across the world. I appeal everyone to stay calm."
Moosewala made his electoral debut as a Congress candidate from his native village Mansa in the February 20 Assembly polls after joining the Congress on December 3, 2021.. However, he was defeated by Aam Aadmi Party candidate Vijay Singla by a margin of 63,323 votes.
"I am not entering politics for status or to earn praise. I want to become a part of the system to transform it. I am joining the Congress to raise the voice of the people. I am joining the Congress as the party has leaders who have come from common families," Moosewala, who went to Canada in 2016 as an international student, said on the day he joined the politics.
With assets of Rs [Indian rupees] 78.7 million as per his nomination affidavit, Moose Wala, who loved to ride in an open jeep, was facing four criminal cases, including two for obscene scenes.
Controversies are not new to Moosewala. He created a stir by allegedly misusing the name of 18th century Sikh warrior Mai Bhago in his track 'Jatti Jeonay Morh Di Bandook Wargi' with panthic bodies demanding his arrest for hurting Sikh sentiments. He later apologized.
Moosewala, who created a niche for himself with his unique rapping style, was known for hit tracks like 'Legend', 'Devil', 'Just Listen', 'Jatt da Muqabala' and 'Hathyar', among many others.
Moose Wala's last post on his Instagram:
https://www.instagram.com/tv/Cd-4DIpJZYK/?utm_source=ig_web_copy_link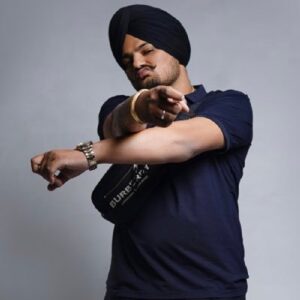 He played the protagonist in the Punjabi film 'Moosa Jatt'. His other film — 'Yes I Am A Student' — is a story that sheds light on the hardships of international students but inspires them to never lose hope.
Many of his songs featured in the Billboard Canadian Hot 100 charts.
According to Wikipedia: "Moose Wala gained wide attention with his track "So High". In 2018, he released his debut album PBX 1, which peaked at 66th on Billboard Canadian Albums chart. Following the album, he started releasing his songs independently. His 2019 single "47" was ranked on the UK Singles Chart. In 2020, Moose Wala was named by The Guardian among 50 up and coming artists. Ten of his songs have peaked on UK Asian chart, two of which have topped the chart. His song "Bambiha Bole" was among the top five on Global YouTube music chart. In 2021, he released Moosetape, tracks from which charted globally including Canadian Hot 100, UK Asian, and New Zealand Hot charts."
IANS reports: Former Punjab Chief Minister Captain Amarinder Singh on Sunday condemned the broad daylight murder of Sidhu Moose Wala.
Expressing condolences to the bereaved family, he said, this loss was too shocking and quite irreparable.
Amarinder blamed the continuously deteriorating law and order situation in Punjab for the brutal murder of the young singer.
"This government has been a complete failure on the law and order front and I have been saying it right since the beginning," he said in a statement here.
The former Chief Minister alleged that the Aam Aadmi Party government in the state was completely clueless as to what was happening here.
"Moosewala's murder was not the first during last two months and I am afraid this might not be the last one," he said, adding, the criminals have no fear of law as the government has ceased to exist and there was total anarchy.
He criticized the Punjab government's mindless decision to withdraw Moosewala's security without assessing his threat perception.
Responsibility must be fixed as to why his security was withdrawn. "After all he was not a routine leader or a party candidate, but a world renowned singer under continuous threat to his life," he pointed out, while asking the government to fix the responsibility for the loss of a precious and promising life.
IN New Delhi, Congress spokesperson Jaiveer Shergill said, "Ever since AAP came to power in Punjab, law and order has seen a downward trend with broad-daylight murders, violent clashes in Patiala, RPG attack at Punjab Police intel HQs, Sidhu Moosewala's killing…Law and order is crumbling like a pack of cards in the AAP regime. Bhagwant Mann must respond."
Punjab Congress chief Amarinder Singh Raja Warring tweeted: "I'm shocked beyond belief and expression. We have lost a promising star in the @INCIndia, Sidhu Mooseewla. He was showered with bullets in Mansa just 2 days after @BhagwantMann govt withdrew his security. @AAPPunjab govt has lost moral authority. It must be DISMISSED."
Party spokesman Randeep Surjewala tweeted, "Deeply shocked at the broad daylight murder of Sidhu Moosewala. Punjab and Punjabis across the world have lost a talented artiste with mass connect, who could feel people's pulse. My heartfelt condolences to his loved ones and fans across the world."
Expressing grief, former Congress President Rahul Gandhi tweeted, "Deeply shocked and saddened by the murder of promising Congress leader and talented artiste Sidhu Moosewala. My heartfelt condolences to his loved ones and fans from across the world."
IN Surrey, Moose Wala's fans and sympathizers held a rally to express their grief (Photos by SUKHWANT DHILLON / AM 600 Sher-E-Punjab Radio):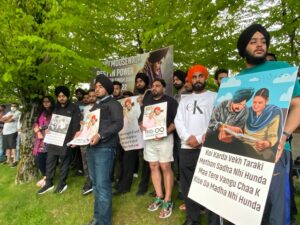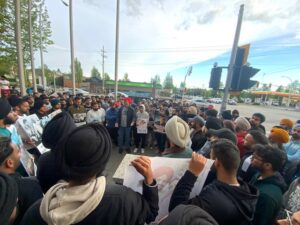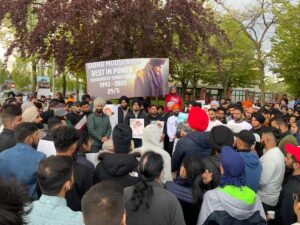 ALSO READ:
Sidhu Moose Wala in yet another controversy: PNE having second thoughts about his performance?
RIVALRIES LEAD TO VIOLENCE IN CANADA … ALSO READ:
Current occupants of Surrey residence that was shot at not the intended target (update February 3)