New Delhi (IANS/other agencies): The Delhi Police's Special Cell has arrested one person from Pune who is said to be close aide of one of the shooters who was involved in the brutal killing of Punjabi singer Shubhdeep Singh, popularly known as Sidhu Moose Wala on May 29, police said on Wednesday.
The accused was identified as Sidhesh Hiraman Kamle, alias Mahakaal.
"He was arrested in a joint operation conducted by a team of Special Cell and Maharashtra Police," Special Commissioner of Police, Special Cell, H.S. Dhaliwal, said.
Dhaliwal said since the killing of Moosewala, four teams of Special Cell have been working on the case.
"We questioned several gangsters across the India to identify the eight shooters who committed the crime," he said.
The probe has so far revealed that Lawrence Bishnoi is the alleged mastermind behind Moose Wala's killing.
The senior official did not share the name of the shooter with whom Kamle is associated. However, he maintained that he has strong linkages with one of the shooters and he can help trace out more than one shooter.
The prime motive behind the Punjabi singer's murder has not been revealed. "It is part of investigation and hence cannot be shared at this stage," Dhaliwal said, adding all relevant information is being shared with the Punjab Police.
On Tuesday, Punjab Police had claimed to have identified four shooters allegedly involved in Moose Wala's killing and said that raids were being conducted to nab them. They also officially announced the arrest of at least eight persons for providing logistic support, conducting recce and harbouring shooters of the singer.
A police spokesperson said those arrested have been identified as Sandeep Singh, alias Kekda, of Sirsa, Haryana; Manpreet Singh, alias Manna, of Talwandi Sabo, Bathinda; Manpreet Bhau of Dhaipai, Faridkot; Saraj Mintu of Dode Kalsia village, Amritsar; Prabhdeep Sidhu, alias Pabbi, of Takhat-Mall, Haryana; Monu Dagar of Rewli village in Sonepat, Haryana; and Pawan Bishnoi and Naseeb, both residents of Fatehabad, Haryana.
Additional Director-General of Police (ADGP), Anti-Gangster Task Force, Parmod Ban said in a statement Sandeep, alias Kekda, on the directions of a suspect based in Canada and Sachin Thapan, had kept tabs on the singer's movements by posing as his fan. Kekda even took selfies with the singer when the latter left home minutes before his murder, he added.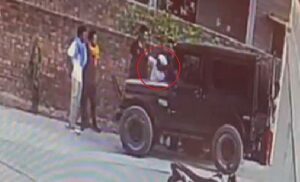 "Kekda shared inputs like the singer not being accompanied by guards, not travelling in a bullet-proof vehicle, number of occupants and vehicle details with the shooters and handlers operating from abroad," Ban claimed.
He said Manpreet Manna had provided a Toyota Corolla car to Manpreet Bhau, who then delivered the car to two persons — suspected to be the shooters — on the directions of Saraj Mintu, a close aide of Brar and Thapan. The ADGP said the fifth accused, Prabhdeep Sidhu, alias Pabbi, had provided shelter to two associates of Brar, who came from Haryana in January 2022, and also got a recce conducted of Moose Wala's home and surrounding areas through them, while Monu Dagar had arranged two shooters and helped assemble the team of shooters to carry out the murder on the directions of the Canada-based suspect.
He said Pawan Bishnoi and Naseeb had handed over the Balero vehicle to shooters and also provided them a hideout.
ALSO READ:
Punjabi singer Sidhu Moose Wala shot dead day after security cut by half (updates)