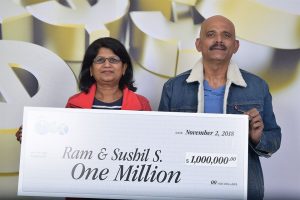 A hard-working family from Surrey is investing and planning for its future after discovering it matched all seven numbers to win a $1 million Maxmillion prize on the Lotto Max draw on October 5.
Ram Singh, a business owner who says he works seven days a week, is still absorbing the good news. "My wife said 'we won' and I went blank. It hasn't hit me yet."
Ram and his wife Sushil say they intend to invest in real estate and give the rest of the winnings to their children. "I was thinking if I ever won the lottery I would invest with my kids and get them a townhouse," said Ram.
Ram, who has been playing the lottery for more than 30 years and Lotto Max since it started in 2009, is maintaining a level-headed approach to his good fortune. "I don't get excited too quickly," he jested.
Ram and Sushil are the 27th Lotto Max Maxmillions winners in B.C. in 2018.