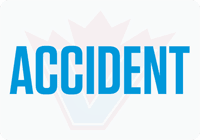 RICHMOND RCMP are seeking the public's help as they investigate a serious motor vehicle incident that occurred on Thursday, May 27 along Highway 91.
At approximately 5:30 p.m. on May 27, Richmond RCMP responded to single vehicle rollover along Highway 91, near exit 11. Initial investigation has revealed that a black Honda Civic had been travelling westbound when it suddenly veered off the roadway.
Two people were inside the vehicle as it rolled over and came to rest on a grassy knoll to the right of the highway.
The passenger of the vehicle, a 57 year-old woman from Abbotsford, sustained life-threatening injuries, and was transported to hospital by Emergency Health Services (EHS).
The driver, a 26 year-old woman also from Abbotsford, sustained non-life-threatening injuries and was also transported to hospital by EHS.
The Richmond RCMP Criminal Collision Investigation Team (CCIT) investigators are continuing their investigation with the assistance of the Lower Mainland Integrated Collision Analysis and Reconstruction Service (ICARS).
Police have not yet confirmed what caused the incident, but at this time alcohol and/or drugs do not appear to have played a role.
If you happened to have witnessed this incident, or if you have dash-cam video, contact the Richmond RCMP at 604-278-1212, quoting file number 21-14263.
Should you wish to remain anonymous, call Crime Stoppers at 1-800-222-TIPS (8477), or visit them online at www.solvecrime.ca