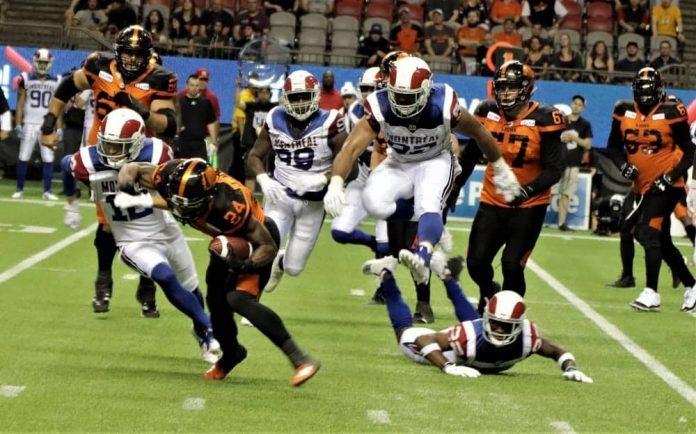 BY MATT BAKER
IT wasn't an oil painting, but at the end of the night, no members of the BC Lions will apologize. Jonathon Jennings threw for two touchdowns and an opportunistic defence lived up to its pre-season hype in a 22-10 week one victory over the Montreal Alouettes on Saturday.
Jennings and company will gladly take the approach of "a win is a win" and let the film study determine what they need to fix for their next test in Edmonton on June 28.
"Absolutely. Any time you can get a win in professional football it feels great. We're not perfect, but it's also the first game of the season so we're gonna build on this, figure out some things that we can work on and get better," said Jennings in an excited Lions locker room.
The visiting Alouettes started hot as quarterback Drew Willy engineered a nine-play, 76-yard drive capped off by a Eugene Lewis touchdown to make it 7-0.
Jennings then went to work, driving the length of the field and finding Shaq Johnson for a 35-yard connection to even the score.
"It was huge," added Jennings.
You've got coach Jarious calling a great game and doing some great things and we went hurry-up tempo, called a quick play and it ended up working out great for us."
They trailed 10-9 at halftime before Ty Long booted a couple of third-quarter field goals to give them a five-point lead early in the 4th quarter. Then came the turning point: an interception by Garry Peters that set the stage for Jennings to find Cory Watson for his first touchdown as a Lion.
Game, set match. That takeaway was extra special for Peters who had an earlier interception called back due to a penalty.
"After that first one, I was so sad because it was the first of my career. My whole time up here I have just been craving one," explained Peters.
"I was on the sidelines talking to the guys trying to figure out who got the flag. I think it was Odell. When I got the second one, I was so excited and just to know that it put momentum on our side and extended our lead made it extra special."
On any given week, the offence may struggle. Having a defence that can make those plays and give them a short field from time to time makes it much easier to swallow.
"That's what a team is for," said Jennings.
"Sometimes if we're backed up we've got to make sure we change the field and they've got to give us opportunities to score quick. They did that and we punched it in late in the game and that's why it's a team win."
Jennings also extended plays with his feet, finishing with 57 yards on nine carries. It was the highest rushing total of his career, eclipsing his previous best of 44 set in a loss in Calgary on July 29th, 2016.
Following a gruelling camp and pre-season, they can now enjoy their first bye week a little more as well, whether it comes at an ideal time or not.
"Any time you can go into a bye week with a win is a big plus," added the quarterback.
"I rather wouldn't have it this early, but it is what it is. We're going to take what we get and get back to work."
Key Numbers
83.3- the completion percentage for Jennings in this one.
5- total number of sacks committed by the aggressive Lions defence. One each for Otha Foster, Odell Willis, Bo Lokombo, Junior Luke and Gabriel Knapton.
0- number of turnovers by Jennings and the offence.
131- yards after the catch recorded by Alouettes receivers, compared to just 57 for the Lions.
Bake's Takes
Kudos to Peters for making the play, especially after the secondary had some rough moments early, particularly on Montreal's lone touchdown drive of the game. The additons of Peters, Marcell Young and Anthony Orange perhaps didn't get the accolades they were warranted as much of the attention was put on new signings on the offensive and defensive lines.
Jennings' running ability was a big reason they prevailed. If he can get back to escaping trouble when the pocket collapses, the offence will be better for it. And although the returns are very early, he and Jarious Jackson appear to be a match made in heaven.
Jeff Reinebold earned the special teams game ball and it was well deserved. His coverage units were solid all-around, allowing Chris Rainey to average 18.4 yards per punt return. He didn't take one to the house, but boy you get the sense he's due.
About the Shaq touchdown: pure athleticism on display. It wouldn't be an overstatement to suggest he can be the Lions' best receiver in 2018.
Matt Baker: mbaker@bclions.com