SAMANDEEP Singh Gill, 30, of Surrey has been arrested and charged with one count of second-degree murder in the 2011 death of Manbir Singh Kajla, 30. He has also been charged with one count of attempted murder of Kajla's 27-year-old wife.
Superintendent Ward Lymburner, Officer in Charge of Programs and Special Projects of the RCMP Provincial Major Crimes Section, which includes the Provincial Unsolved Homicide Unit, told the media on Monday that Gill was arrested after an extensive seven-year investigation.
He said Gill was arrested without incident and charged on Saturday, May 5 by the Provincial Unsolved Homicide Unit and the BC Crown Prosecution Service. The investigation determined this was a random act of violence, as the suspect and victims were not known to each other.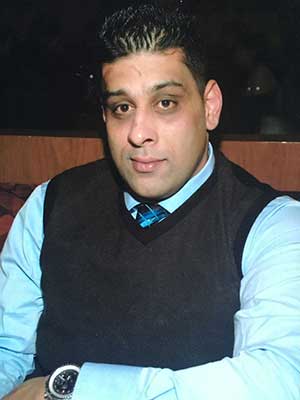 Lymburner said: "On the night of April 27, 2011, Mr. Kajla and his new wife, having only been married that morning in Canada, were driving along 68th Avenue and 128th Street, when a minor collision occurred between the Kajla's vehicle and that of Samandeep Gill. When Mr. Kajla approached Gill's vehicle, he was shot by a suspect, who then fled the scene.
"Mr. Kajla was found suffering from multiple gunshot wounds and later died in hospital."
He said the Integrated Homicide Investigation Team was called in and the homicide investigation was launched.
(Back in 2011, then-IHIT spokesperson Cpl. Dale Carr told this reporter that on April 27, 2011, at about 11 p.m. a Lexus and a Explorer-type vehicle were both travelling south on 128th Street in the 6900-block when the SUV, which was slightly ahead of the Lexus, "crossed the centre line and a minor collision took place."
(He said: "They went a little further down the road and the Lexus stopped and the driver of the Lexus exited his vehicle, went over to confront the driver of the SUV regarding the accident and was ultimately shot by that driver of the SUV. He managed to make it back to the sidewalk in the front yard of a home there where he collapsed and lay until ambulance and medics and police were able to get to him." The victim's wife, Pavan, who was in the car with him, was unharmed.
(According to the Provincial Court database at the time, Kajla had three convictions for impaired driving, and two charges of uttering threats were laid in 2006 but were dropped. He was facing two impaired driving counts. However, Carr said Kajla was "not known to police for involvement in criminal activity.")  
Lymburner told the media: "The BC Provincial Unsolved Homicide Unit seamlessly took over this investigation from the Integrated Homicide Investigation Team in 2016. The Unsolved Homicide Unit is a dedicated, standalone investigative team within the BC RCMP Major Crime Section, which assists RCMP Detachments, units like IHIT and Municipal Police Departments with investigations into unsolved homicides and missing person's cases where foul play is expected. They have the ability to take the file and advance the case through various methods ranging from new forensic techniques, intelligence, or strategies that often benefit from the period of time which passes after the initial events have taken place."
He noted: "The successful outcome in this investigation was a result of a coordinated and collaborative approach to information sharing and expertise of the investigators working on this case."
Superintendent Donna Richardson, Officer in Charge of IHIT, said: "Manbir's life was taken in a senseless act of violence. There was significant media and public interest in this investigation due to the random nature of this crime.
"IHIT initially took conduct of the investigation, and from the onset had the assistance of a number of specialized units, resources and investigative expertise. The area of the crime scene was canvassed extensively by our investigators and the Surrey RCMP Serious Crime Unit. Key interviews were conducted, the Integrated Forensic Identification Services analyzed evidence, and countless hours were spent on this investigation to ensure that nothing was overlooked."
She added: "IHIT worked in partnership with the BC RCMP Major Crime Provincial Unsolved Homicide Unit to advance the investigation to today's successful conclusion."
The victim's family issued the following statement:
"First of all, we would like to thank all the members of IHIT and the RCMP for all their hard work and relentless efforts on this case.
"We have waited for seven long years for this moment and we are relieved that closure is in sight. Only we know the unimaginable grief that our family has been going through and the toll it has taken on every family member. What we have been going through is something that no family should ever have to go through.
"Manbir was a loving member of our family and the void that his murder has left in our hearts can never be filled. He was a fun-loving person who is missed deeply every day. For those of you who knew Manbir you know that he had a heart of gold, he was a son, brother, brother-in-law, uncle, husband and a friend second to none and cared about everybody he was close to. He was the kind of brother and friend that you would dream of. He was selfless and cared about everybody but himself.
"We recognize that nothing can bring Manbir back. However, we need and deserve closure and are glad to see this next step today. We strongly urge the accused, his family, friends and acquaintances who were or are aware of any details related to this incident and withheld any information from the police to come forward now and do the right thing. We understand the accused and his family have also suffered from this senseless act of violence. We can only hope that the accused will cooperate and help everyone involved move forward.
"We would also like to thank our extended family and friends for their endless love and support through this extremely difficult time.
"At this time, we would like to ask the media to please respect the privacy of our family."
If anyone has information that could further this investigation, they are asked to come forward and speak to the investigators. To leave a tip on the Provincial Unsolved Homicide Tip Line, call 1-877-543-4822.