SOUTH Asians Sarthak Tyagi of Surrey and Nazifa Nawal of Burnaby are among the 17 recipients of the prestigious 40th annual Terry Fox Humanitarian Awards across Canada.
The 17 exceptional young Canadian recipients receive individual scholarships valued at up to $28,000 to recognize young humanitarians who have demonstrated courage and determination through academics, athletics, and civic life.
"These young humanitarians have worked tirelessly to channel the same values and goals that Terry Fox held, be it a passion for helping those in need or demonstrating perseverance in the face of adversity," said John Kearsey, Chairperson of the Terry Fox Humanitarian Award.   "The award will support these exceptional young leaders through their first post-secondary degrees.  We are thrilled to help contribute to their further growth and look forward to watching as their careers flourish."
The 17 recipients of the 2022 Terry Fox Humanitarian Award come from all walks of life, and each has faced challenges that have shaped their worldview and driven them to help others in their communities.  Whether advocating for youth, mental health, education access, refugee integration, child welfare, environmental action, medical and health research or aboriginal rights, each young award recipient has committed to changing the world for the better and living a life of action, change and purpose.
"Selected from over 500 applicants, the 2022 Terry Fox Humanitarian Award recipients represent the best of Canada's young humanitarians.  Their remarkable stories have inspired us and we are confident these student leaders are on the cusp of making tremendous contributions to our country," said Kearsey.
The Terry Fox Humanitarian Award Program was created to commemorate Terry's remarkable life and his contributions to cancer research and awareness. Since its inception, more than 900 young leaders have received the Award and today are leaders in health, education, sport, law, finance, communications, education and various other disciplines.
Recognized as one of the most prestigious scholarships in the country, the Terry Fox Humanitarian Award Program is dedicated to honouring and advancing the humanitarian legacy of Terry Fox, one of Canada's most recognized heroes.  By encouraging Canadian youth to emulate Terry's courage and determination through volunteer work and humanitarian services, this Award supports the humanitarian leaders of tomorrow.
Marking its 40th year, the Terry Fox Humanitarian Award was established in 1982 with a $5 million endowment by the Government of Canada under Prime Minister Pierre Elliot Trudeau. Another $10 million was contributed by Prime Minister Stephen Harper's government in 2006. The endowments are an investment in Canadians, inspiring young humanitarians to seek the high ideals that Terry Fox exemplified.
To learn more about the program and its scholars, visit: www.terryfoxawards.ca
For bios and photos for each of the recipients, click here: https://terryfoxawards.ca/current-recipients/
Sarthak Tyagi of Surrey
Moving to Canada as an immigrant in 2016, Sarthak received ELL support throughout his schooling. He recognized the benefit the support he received helped overcome challenging barriers and aided him as he settled into a new culture and life in Canada. Being raised in a low-income immigrant family, Sarthak understands well the cultural and financial challenges of many of his peers. He uses this experience and what he has learned from living in a low-income community to identify and create opportunities for others.
A grade 12 student at Queen Elizabeth Secondary High School, he is the President of Learn Lab, where he mentors and tutors at-risk pupils. The major goal of this program is to model and guide students toward making socially responsible decisions. He further uses his passion for engineering to make a positive change in the lives of others. Sarthak innovated an affordable Smart Navigation Cane to aid blind and visually impaired individuals. The cane scans the surrounding environment and buzzes/vibrates when it detects nearby obstructions. He has been in contact with several Non-profit organizations globally to donate these canes. Sarthak is the captain of his school's Royals Robotics team, which qualified to the quarterfinals of the 2022 FIRST Robotics Regional Championship.
He is also an executive member of the Royal Brotherhood Leadership group, leads a weightlifting club, and helps organize various school events as being part of the Student and Grad Council. Sarthak also volunteers with the Surrey Food Bank, a non-profit, charitable organization. Additionally, he leads a community gala that has raised over $100,000 for the Surrey Memorial Hospital by selling raffle tickets, holding contests, and seeking donations from outside community groups. He will be attending the University of British Columbia this fall to study applied sciences on his path to becoming a computer engineer.
"Knowing that one out of every 33 individuals require humanitarian assistance should influence anyone to help those in need. We all come from diverse backgrounds and experience a variety of challenges throughout our lifetime. It is crucial for us to help one another and contribute to making our world a better place," says Sarthak.
Nazifa Nawal of Burnaby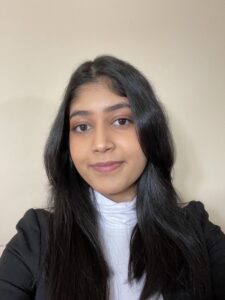 Nazifa and her family moved to Vancouver from Bangladesh when she was eight years old. Her family faced poverty, language and cultural barriers, and the social pressure of living in one of the highest-risk housing projects in the region. They had difficulty communicating and adapting to their new environment with limited English language skills, but Nazifa has become a leader in her school and community with persistence and resilience.
As President of the Britannia Leo Club, Nazifa leads a group of students working to build a sense of community by engaging their peers in volunteer opportunities while fundraising for humanitarian causes. Nazifa prioritizes creating a safe and inclusive space where members feel comfortable sharing their ideas about events, places to donate, and how the club should be run. They have raised money for a newly built community center in Kamloops supporting Residential School survivors and many more. Nazifa is also the Chair of the Britannia Youth Council, a School Ambassador of Girls Can Talk Society, and a youth collaborator on AgendaGap (a UBC mental health research project) where they made calls to action about racism's impact on youth mental health. Additionally, she volunteers for the Britannia Secondary School and Community Centre and the BIPOC Club, which strives to create a safe, inclusive, and equitable space for BIPOC students in the community. A passionate social justice advocate, she and her peers, started the first student-run BIPOC club in schools across the Vancouver School Board. She further created a new recycling system for her high school through a community project called YCAN (YMCA Community Action Network).
Nazifa plans to attend the University of British Columbia to study Psychology as she follows her career goals of becoming a criminal lawyer.
"The injustices I have faced have inspired me to make changes on a large scale, which is where my ambitions of becoming a criminal lawyer stem from. My strong determination to become a criminal lawyer started at an early age because I have always been passionate about serving my community and this inspired me to represent marginalized communities in court. It is critical for me to advocate for equity for myself and people like me in the next generation," says Nazifa.