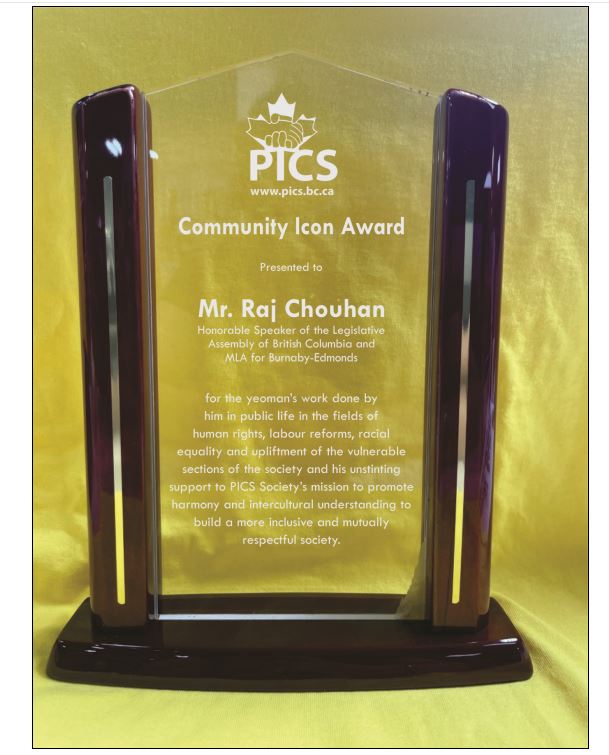 RAJ Chouhan, Speaker of the Legislative Assembly of BC, was on Tuesday honoured and recognized with a 'Community Icon Award' and citation by PICS Society for being the first South Asian to be elected Speaker of any legislative assembly in Canada.
Chouhan was also presented with a limited edition special commemorative coin minted in 2019 to celebrate Guru Nanak Dev Ji's 550th birthday.
"As a long-time community leader and role model, Mr. Chouhan has spent over 40 years fighting for the rights of the farmworkers, becoming the founding president of the Canadian Farmworkers Union (CFU). He worked tirelessly alongside PICS Society's late founder and activist CEO Mr. Charan Gill to advocate for the underprivileged and vulnerable members of our society.  Mr. Chouhan was the most deserving and ideal choice for PICS' first Community Icon Award," said Satbir Cheema, President and CEO of PICS Society.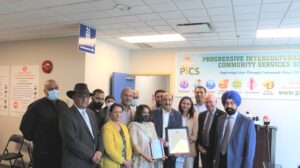 Reflecting on the fight against racism and injustice, Chouhan said: "We have come a long way, but its not over yet."
MLAs Harry Bains, Gary Begg, Rachna Singh and Jagrup Brar spoke fondly about Chouhan's lifelong contributions to the community.
PICS Society's Board members, management and staff also joined in the celebration. PICS Society's vision is shared by Chouhan to build a healthy and just society which values and respects all cultures.