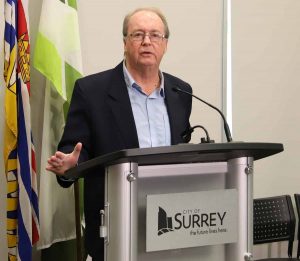 IT seems that the pro-RCMP lobby in Surrey Council will stoop to any low from cruelly using a widow of a homicide victim to shameless distortions to sabotage the will of Surrey voters for a municipal police force.
The latest in this series of false, twisted propaganda was Tuesday's Surrey Councillor Brenda Locke's  press release alleging that the "report on proposed Surrey Police Department lacks needed support for abused children" at Sophie's Place.
Surrey Mayor Doug McCallum hit back by stating: "The information Councillor Locke is providing amounts to fearmongering. Staffing levels for Surrey Police, just as it is now for Surrey RCMP, is determined by the Chief of Police. The proposed staffing model in the Surrey Policing Transition Report is a starting point and officers can be moved and added to sections as deemed appropriate by the SPD Chief. It should be noted that under the new SPD model the seven officers dedicated to Sophie's Place would be complimented by and is part of a larger Special Investigations Section."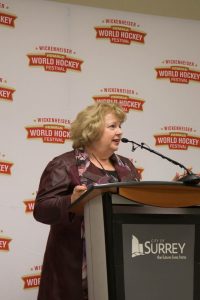 McCallum went on to point out once again: "Councillor Locke campaigned on and voted in favor of a city police force. Not only has she broken her word to the Surrey residents who voted for her, but she is now dragging in Sophie's Place and all the good work that everyone does there for political purposes. That to me is unconscionable and irresponsible."
Locke also repeated the lie: "The Surrey Police Transition Report outlines the creation of a police department with fewer officers than we have today," in spite of The VOICE having exposed this in an article on June 7 titled, "SFU professor reveals the REAL truth about RCMP figures in Surrey – and why the City needs its OWN police force (see link below)."
Just about two weeks ago, The VOICE wrote: "Surrey-ites expressed their disgust and anger at the shameless tactics being used by Councillor Linda Annis who has been using the widow of a victim of the gang violence to frighten people against replacing the RCMP. The investigation into that murder is being conducted by the Integrated Homicide Investigation Team (IHIT) – as are the other homicides and it makes no difference if the RCMP leave or stay on.  Annis is being condemned for her scare tactics that are being called cruel to the victims.
"Residents also point out that if Surrey-ites were against a Surrey police force they would never have elected McCallum.
"People are also condemning councillors Brenda Locke and Jack Hundial, a former RCMP officer, for using McCallum to get elected and then turning against him. They want the two to resign and run again for election."
Locke got only about 13,600 votes when she ran for Surrey Council in 2014 – she was No. 17. She was defeated by not only the successful Surrey First candidates but also candidates like Rina Gill, Kal Dosanjh, Narima Dela Cruz and others.
This time she won only by joining McCallum's Safe Surrey Coalition team and thus got more than 40,000 votes.
READ ALSO:
SFU professor reveals the REAL truth about RCMP figures in Surrey – and why the City needs its OWN police force