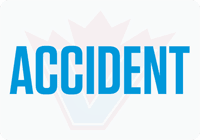 LAST year in Surrey, 19 people were killed as a result of motor vehicle collisions and a further 20 people were seriously injured. The number of pedestrians struck by vehicles: 290.  
This May, there was a collision related death or serious injury every week.
Surrey RCMP is releasing these figures to the public to highlight the serious impact that collisions have on the community, and to urge all roadway users to follow BC's traffic laws.
High risk driving behaviour contributes to a large proportion of fatal and serious collisions. Those driving behaviours include distracted driving, speeding, and impaired driving. The majority (80%) of collisions occur at intersections.
Using data from the previous three years RCMP analysts have identified a list of the top collision intersections in Surrey.
Each intersection below is listed with the number of collisions occurring over the previous three years.
128th Street / 96th Avenue – 24
96th Avenue / King George Boulevard – 18
104th Avenue / King George Boulevard – 18
64th Avenue / King George Boulevard – 17
176th Street / Fraser Highway – 16
128th Street / 72nd Avenue – 16
72nd Avenue / King George Boulevard – 15
68th Avenue / King George Boulevard – 14
128th Street / 80th Avenue – 14
88th Avenue / King George Boulevard – 13
 "Police enforcement alone can not make Surrey's roadways safer," said Sgt. Ian MacLellan, Surrey RCMP Traffic Services.  "We urge our roadway users to follow the rules of the road, and to understand that by doing so, they will prevent motor vehicle collision deaths and serious injuries in Surrey."
For more information on road safety, visit the Protect Yourself section of our Surrey RCMP website.