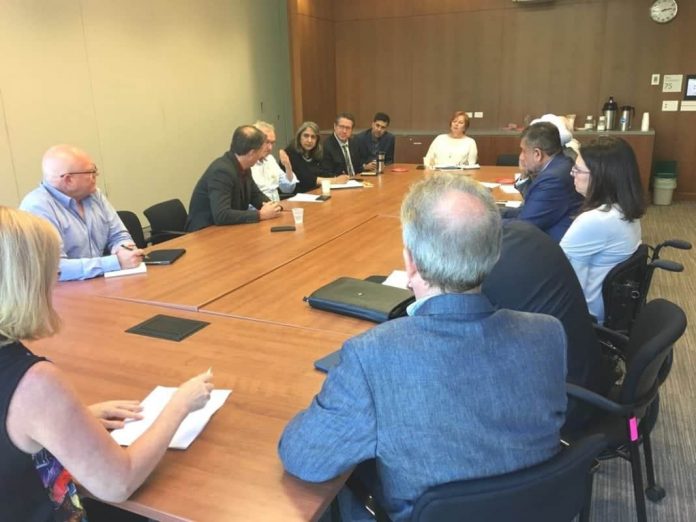 "PARLIAMENTARY Secretary Holland is taking a message back to Ottawa that Surrey won't accept the status quo anymore, and that federal support is critical to drive the improvements we all want to see.  My colleagues and I will reinforce that message at every opportunity," said Ken Hardie, MP Fleetwood-Port Kells, on Monday in a statement.
Hardie and Surrey MPs John Aldag, Sukh Dhaliwal, Gordie Hogg and Randeep Sarai held a roundtable discussion on Sunday with Mark Holland, Parliamentary Secretary to the Public Safety Minister.
The MP's along with their provincial and municipal counterparts discussed the measures that have been taken to date, as well as new resources and supports that are required to boost prevention, intervention, and enforcement measures to tackle gun and gang violence in Surrey, according to a press release by the federal Liberals.
In Budget 2018, more than $300 million dollars were allocated over the next five years and $100 million annually after that, which will be permanent funding towards community programs, law enforcement and border operations that are focused on reducing gun and gang violence across Canada. The MP's said they were pleased to see this significant investment, however, they made it clear that Surrey must receive an increased level of funding to ensure the City has the resources to support community programs and police operations on this issue.
Members from various community organizations, Surrey School Board, City of Surrey Gang Task Force, Surrey RCMP, CFSEU, and representatives from the Ministry of Children and Families were on hand to share the work that is being done to prevent children from entering gang life, and the tools and resources that are needed to support this work.
This team of local MP's ended the meeting by hearing directly from local families from the Lower Mainland on the toll this has had on their families. The MPs said they as well as Holland are resolved to carry forward the ideas, suggestions, and solutions on this issue to bring about a real difference in the community, led by the B.C. Caucus Chair, Gordie Hogg. In the coming months, they expect the funding supports to arrive to the approved applicants.