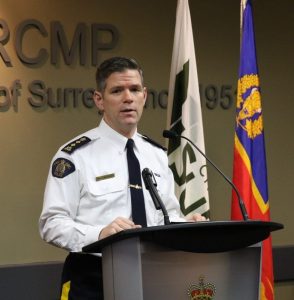 THE most recent crime statistics for Surrey show decreases in overall criminal code offences (-9%), violent crime (-7%) and property crime (-16%).
The 2018 third quarter (Q3) crime statistics are now available on the Surrey RCMP website.  These decreases are reflective of the general decline in crime the City of Surrey has experienced over the past ten years, both by volume and rate (Surrey Crime Profile 2008-2017).
In Q3 2018, violent crime offences declined by 7% with all violent crime categories showing decreases including a 23% decline in robberies and 6% decrease in sexual offenses. The violent crime rate has been trending slightly downwards over the last decade, despite a significant spike in 2015. The violent crime rate in 2017 was the lowest it has been in the last 10 years.
Gangs, guns and drug trafficking continue to be the Surrey RCMP's top priority. At the end of Q3, Surrey had 32 shots-fired files compared to 41 in the same time period in 2017, which reflects a 22% decrease.
In July, Surrey RCMP expanded the size of their Surrey Gang Enforcement Team (SGET) to increase both enforcement and prevention efforts with respect to gang activity. Since the beginning of the school year, SGET has delivered 31 "Shattering the Image" anti-gang presentations to elementary and secondary students.
For the fifteenth consecutive quarter, there was no increase in property crime, with Q3 showing a 16% decrease. All areas of property crime decreased with the exception of fraud (+2%) and theft over $5,000 (+81%), which is partially attributed to unsecured property and metal / copper wiring thefts. Overall break and enters went down 26% in Q3, and auto theft continued to decline with a 39% decrease in theft of vehicles and a 17% decrease in theft from vehicles.
Looking at the past decade, Surrey's 2017 property crime rate was lower than the 10-year average, and the lowest it has been since 2011.
"We are pleased to see crime on a downward trend in Surrey," said Assistant Commissioner Dwayne McDonald, Surrey RCMP Officer in Charge. "These shorter term quarterly crime stats help us identify emerging issues and deploy resources accordingly, while the longer term crime trends allow us to see if we are being effective in changing the overall trajectory of crime in Surrey by utilizing enforcement as well as prevention and intervention to address the root causes of crime."
Another common method of measuring crime is Statistics Canada's Crime Severity Index, which reflects the relative seriousness of individual offences.  Surrey's Crime Severity Index (CSI) has generally been trending downward since 2008. While Surrey's 2017 CSI (105.91) was significantly higher than the provincial CSI (88.93), the 2017 CSI value was down nearly 10% from the year previous and the lowest it has been in the last decade.
"We still have work to do in Surrey to further improve public safety," said McDonald. "Together with community partners, residents and business owners, we are making headway and will continue to do so to ensure everyone feels a strong sense of safety where they live, work and play."