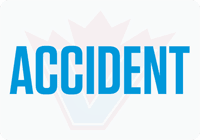 NICOLAS Karvouniaris, 25, of Surrey has been charged with one count of dangerous driving causing death and two counts of dangerous driving causing bodily harm in the fatal collision that occurred just after midnight on November 4 in Surrey. He has been released on court-ordered conditions with a future court date.
The Surrey RCMP Criminal Collision Investigation Team has determined that a black 2016 Jeep Cherokee was travelling westbound on 88th Avenue when it crossed the centre median and collided with a Ford Escape that was travelling eastbound near 134th Street.
The driver of the Ford Escape was pronounced dead at the scene and two passengers remain in hospital with life-threatening injuries. A third passenger received minor injuries and has since been released from hospital.
The driver and sole occupant of the Jeep Cherokee received minor injuries and was taken into custody at the time of the occurrence.
The investigation is still ongoing and investigators are asking to speak with any person who may have relevant dash-cam or cell phone video or was a witness to the collision that has not yet been contacted by police.
Contact the Surrey RCMP at 604-599-0502 or Crime Stoppers, if you wish to remain anonymous, at 1-800-222-8477 or www.solvecrime.ca.