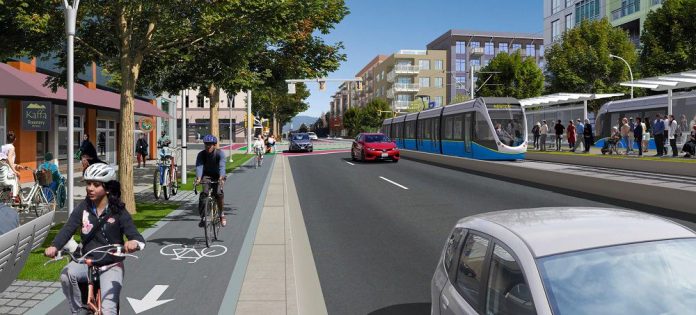 TRANSLINK is not waiting for the Surrey civic election in October to kick off procurement phase of the Light Rail Project.
There is a debate on whether or not a majority of Surrey residents favour LRT over SkyTrain. Opponents of the LRT claim that a recent CKNW radio poll showed over 80 per cent were opposed to LRT, but that is not considered a scientific poll as anyone from the Lower Mainland or even outside of it could have responded to it.
However, TransLink tells The VOICE that their scientific polls have consistently shown a solid majority of Surrey residents favour LRT over SkyTrain.
But opponents of LRT say that the majority support for LRT is slim.
TransLink announced on Wednesday: "Now that the business case for the Surrey-Newton-Guildford LRT is approved, TransLink is ready to secure a contractor to begin construction in 2020."
"By 2041, we expect more than 400,000 people to move to communities south of the Fraser," said Surrey-Newton-Guildford LRT Project Director Stephan Mehr. "LRT will transform Surrey. It will encourage more livable neighbourhoods and support growing job centres. Three-quarters of transit trips start in Surrey and end in Surrey. This shows people living there want to be able to work and play close to home. LRT will make that type of lifestyle easier to attain in Surrey, while preparing the city for decades of growth."
TransLink, with support from the federal government and contributions from the City of Surrey, is funding the $1.65-billion project, a key part of the Metro Vancouver Mayors' Council 10-Year Vision. The Surrey-Newton-Guildford LRT Project will feature:
· 10.5 km of street-level light rail service along King George Blvd. and 104th Avenue
· 11 new stops, including two new exchanges
· 27-minute travel time connecting Surrey City Centre, Guildford and Newton
· Five-minute frequency in peak hours
After the Request for Qualifications period closes, TransLink will invite up to three proponents to submit detailed technical and price proposals as part of the Request for Proposals process. It expects to award the contract to the successful team in late 2019 and celebrate opening day in 2024.