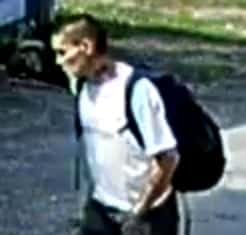 VANCOUVER Police have arrested 46-year-old Jason Acoose of Vancouver, for allegedly setting an East Vancouver fire.
The VPD on Thursday released new security video and asked for the public's help to identity a suspect in the video who was believed to be responsible for a recent arson in East Vancouver that caused more than $100,000 in damage.
Just after 3 p.m. on August 21, the suspect is seen in the video walking in the east lane of Nanaimo Street at Copley Street, when he puts his hand into a dry hedge behind a residence and walks away, south down the lane. Moments later, the hedge erupts into flames.
Vancouver Fire and Rescue Services responded to the fire and put out the blaze, but it destroyed a hedge, two garages with vehicles inside, and a utility pole. Fortunately, no one was injured.
VPD arson investigators are crediting the public for tips which helped lead to the arrest of Acoose.
Just before noon on Friday, VPD patrol officers arrested Acoose near Commercial Drive and East 12th Avenue. Crown Counsel has approved two charges of arson to property against him.
Acoose remains in custody. There is no additional information available to share at this time.