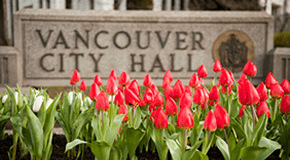 THE City of Vancouver is seeking public input about how 80 acres of City-owned lands in False Creek South could potentially be used to help address city-wide priorities such as the housing crisis, climate emergency and local economy.
False Creek South is the site of a 1970s visionary development and legacy, which became a model for progressive urban planning, nationally and around the world.
The City wants to know what Vancouver residents think about a potential update to that original vision, consistent with the community's history as an inclusive, affordable, livable urban neighbourhood, while also potentially addressing public priorities such as housing options.
The City's approach to exploring more housing options on City-owned lands in False Creek South would be based on:
* Retaining public ownership of the lands
* Providing clarity for those with homes on land currently leased from the City
* Potentially phasing in a new vision for the area incrementally, over time.
This work is connected to, but independent from, the City's False Creek South community planning process which paused in 2018.
The City will be seeking input until February 28 and the feedback will be used to help inform long-term decisions about the future of False Creek South. Public input from this engagement will also inform the City's broader Vancouver Plan.
About False Creek South lands
These lands are located between the Cambie and Burrard Street bridges on the south shore of False Creek, and there are approximately 1,800 residential units—both market and non-market—on leased lands which are owned and managed by the City on behalf of all Vancouver residents. There are additional units on private lands in the community.
Share your thoughts
The City wants to hear from you about options for the future of City-owned lands in False Creek South, which will help shape the City for the benefit of current and future generations.
Here's how you can get involved:
– Participate in the Talk Vancouver online survey
– Attend an online information and Q&A session
– Send the City an email
Visit ShapeYourCity.ca/FCSLands for more information.