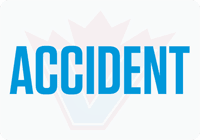 A collision involving a vehicle and a pedestrian last month in South Vancouver has claimed the life of a Vancouver man.
On February 24, the 79-year-old man was crossing East 54 Avenue west of McKinnon Street when he came into contact with a vehicle turning left. Paramedics attended the scene and the man was taken to hospital with serious injuries.
"Tragically, the male pedestrian succumbed to his injuries and passed away Sunday," said Constable Tania Visintin on Wednesday.
The driver of the vehicle remained on scene and fully cooperated with collision investigators. Speed and alcohol are not considered factors.
This is Vancouver's second pedestrian fatality of 2021.