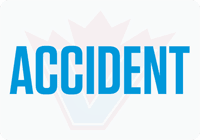 ਸਥਾਨਕ ਡੈਲਟਾ ਪੋਰਟ 'ਤੇ ਵਾਪਰੇ ਇੱਕ ਹਾਦਸੇ ਕਾਰਨ ਇੱਕ ਟਰੱਕ ਨੂੰ ਅੱਗ ਲੱਗ ਗਈ ਅਤੇ ਟਰੱਕ ਚਾਲਕ ਟਰੱਕ ਵਿੱਚੋਂ ਨਿਕਲ ਨਹੀਂ ਸਕਿਆ। ਮਿਲੀ ਜਾਣਕਾਰੀ ਮੁਤਾਬਿਕ ਪਿੱਛਿਓਂ ਰਾਜਸਥਾਨ ਨਾਲ ਸਬੰਧਤ 37 ਸਾਲਾ ਰਾਜਵਿੰਦਰ ਸਿੰਘ ਸਿੱਧੂ 2017 ਤੋਂ ਹੀ ਓਨਰ ਅਪਰੇਟਰ ਵਜੋਂ ਟਰੱਕ ਚਲਾਉਣ ਲੱਗਾ ਸੀ, ਪਹਿਲਾਂ ਉਹ ਡਰਾਇਵਰ ਵਜੋਂ ਕੰਮ ਕਰਦਾ ਸੀ। ਸੂਤਰਾਂ ਮੁਤਾਬਿਕ ਉਹ ਆਪਣੀ ਲੇਨ 'ਚ ਸਹੀ ਜਾ ਰਿਹਾ ਸੀ ਕਿ ਅੱਗਿਓਂ ਆ ਰਿਹਾ ਇੱਕ ਟਰੱਕ ਉਸ ਵਿੱਚ ਸਿੱਧਾ ਆਣ ਵੱਜਾ। ਟੱਕਰ ਤੋਂ ਬਾਅਦ ਉਹ ਟਰੱਕ ਵਿੱਚ ਹੀ ਫਸ ਗਿਆ ਅਤੇ ਬਾਹਰ ਨਿਕਲ ਨਹੀਂ ਹੋਇਆ। ਟਰੱਕਾਂ ਵਾਲੇ ਦੋਸਤ ਟਰੱਕ ਨੂੰ ਤੁਰੰਤ ਅੱਗ ਲੱਗਣ ਲਈ ਯੂਰੀਆ, (ਡਿਫ ਰੀਜਿਨ) ਨੂੰ ਦੋਸ਼ੀ ਦੱਸ ਰਹੇ ਹਨ।ਇਹ ਬੇਹੱਦ ਮੰਦਭਾਗੀ ਘਟਨਾ ਹੈ ਅਤੇ ਪਰਿਵਾਰ ਲਈ ਕਦੇ ਵੀ ਪੂਰਾ ਨਾ ਹੋਣ ਵਾਲਾ ਘਾਟਾ। ਸਵੇਰੇ ਘਰੋਂ ਨਿਕਲਦੇ ਕਾਮੇ ਨੂੰ ਇਹ ਪਤਾ ਨਹੀਂ ਹੁੰਦਾ ਕਿ ਉਸਨੇ ਵਾਪਸ ਜਾ ਕੇ ਟੱਬਰ 'ਚ ਬਹਿਣਾ ਜਾਂ ਨਹੀਂ। ਬੇਹੱਦ ਅਫਸੋਸਨਾਕ।Truck caught fire after accident near Deltaport. 37 year old driver didn't survive. – ਗੁਰਪ੍ਰੀਤ ਸਿੰਘ ਸਹੋਤਾ

Posted by Gurpreet Singh Sahota on Thursday, June 13, 2019
olympia's driver Stuck in Truck , try to pull him out , but Unsucessfull on Deltaport way Prayers are with friends and family

Posted by Kuljinder Singh Gill on Thursday, June 13, 2019
A truck driver was killed in a fiery crash on Thursday morning in the Roberts Bank causeway when two semis crashed along Deltaport Way. One of the trucks caught fire and the driver could not be saved. According to Gurpreet Singh Sahota's Facebook post, the victim was 37-year-old Rajvinder Singh Sidhu.
Delta Police in a statement said that at approximately 9:45 a.m. on Thursday, they received a call about a collision involving two semi-trucks in 3500-block of Deltaport Way.
One truck was travelling eastbound on Deltaport Way and the other truck was travelling westbound at the time of the collision. Delta Police were on scene shortly after the incident occurred, as was the Delta Fire Department.
The cause of the collision has not been determined, but police said they could confirm that one driver received non-serious injuries.
However, when The VOICE contacted Delta Police about the reported death of the other driver, they said they were not going to comment on that.
Delta Police's Traffic Section is leading this investigation. It is currently not known when Deltaport Way will re-open.
"We recognize that a road closure like this causes significant delays for drivers accessing the port. Thank you for your patience and understanding while our officers investigate", said Delta Police spokesperson, Cris Leykauf. "This is a very serious collision, and investigations such as this take time. The process of clearing the road of a collision of this magnitude is also complicated."
BC's Commercial Vehicle Safety and Enforcement branch is assisting Delta Police in this investigation.
Videos: Facebooks of Gurpreet Singh Sahota and Kuljinder Singh Gill