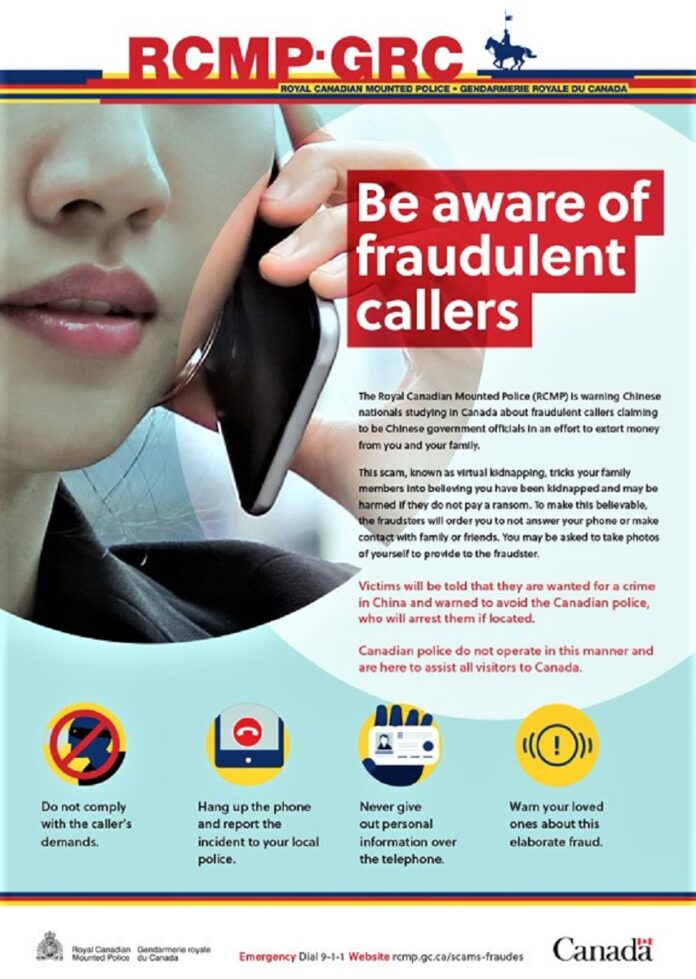 BURNABY RCMP are issuing a public alert about virtual kidnapping scams, after a recent incident that targeted an international student living in Burnaby.
The student, who is a Chinese national, was contacted by phone in late August by two people who told him they were Chinese police officers and claimed he was a suspect in an investigation.
Over the course of several weeks, the suspects directed the victim to make a series of hostage videos, telling the victim it would help his court case. The victim was also pressured into paying the suspects tens of thousands of dollars using an online money transfer app, with the suspects telling him the money would be used for legal fees in his court case.
In early November, the victim's family in China received a ransom demand along with the hostage videos taken by the victim. However, the victim's family was suspicious of the circumstances. Burnaby RCMP was contacted and officers were able to confirm the safety of the victim, who had been instructed by the suspects to go into hiding.
"This extortion scam escalated over more than two months, with these scammers going to great lengths to demand money from the victim and then his family," said Sgt. Freda Fong with Burnaby RCMP's Investigative Support Team, on Tuesday.
"While these types of frauds can be convincing, we urge everyone, including international students and Chinese nationals living in Canada, to be aware of warning signs of virtual kidnapping scams."
The incident remains under investigation.
VIRTUAL kidnapping is a scam meant to extort money from victims and their families. These scams continue to target Chinese nationals in Canada, with the criminals often posing as Chinese police or government officials.
Virtual kidnapping scams aim to trick a victim's family, who may be located overseas, into believing the victim has been kidnapped and may be harmed if a ransom is not paid.
To make this believable, the fraudsters may order the victim not to answer their phone or make contact with family or friends. In addition, the victim may be pressured to take photos and video to provide to the fraudsters, which would then be used in the extortion attempt.
Victims will often be told that they are wanted for a crime in China and will be warned to avoid the police in Canada.
Canadian police, including the RCMP, do not operate in this manner and are here to assist all visitors to Canada.
What to do if you receive a call:
Do not comply with the caller's demands
Hang up the phone and report the incident to your local police
Never give out personal information over the telephone
Warn your loved ones about this elaborate fraud
Call 911 in an emergency.