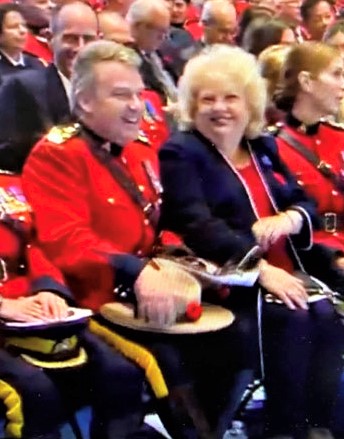 WEDNESDAY'S open letter by Surrey Police Service to Surrey City Council and Surrey-ites should be taken extremely seriously by the Province that has the authority to end the unseemly drama that Surrey Mayor Brenda Locke and her RCMP buddies have inflicted not only on Surrey-ites but on all British Columbians.
The RCMP — and the whole world — know the Mounties don't have adequate staff in the Province and that British Columbians' security is in a precarious state. The ongoing delay in municipal transitioning in Surrey — the only large city in Canada not to have its own municipal police force – is aggravating the situation.
The RCMP are petrified that losing Surrey will have a domino effect across B.C. However, the fact is that the Province's long-term strategy is to have regional police forces and the RCMP will ultimately be phased out. It's just that the RCMP officers in high positions want to hold on to their posts and don't give a damn about the other Mounties who they are using for their own power and petty ego games.
And then there are former Mounties like Surrey Councillor Rob Stut whose kids are in the Surrey RCMP and who very conveniently and selfishly want to maintain the status quo while the rest of the world could go to hell.
Surrey-ites can't still believe the unethical way in which Stut and Locke kept mum about Stut's kids serving in the Surrey RCMP even as he voted in Surrey City Council to keep the RCMP in Surrey! Surely, he wasn't ashamed of his kids serving in the RCMP!
We are still waiting for Surrey Ethic Commissioner Peter Johnson's decision on a complaint filed by the Surrey Police Union in this connection.
As the SPS noted in its open letter: "SPS already has 46% of the police officers currently required to police Surrey. Deployed SPS officers currently comprise over 25% of the Surrey RCMP's total detachment strength, and 50% of its frontline officers."
Surely, it would be sheer insanity to reverse this now.
Also, as SPS Chief Constable Norm Lipinski pointed out in March, SPS has 332 police officers, with 50% identifying as a visible minority, including 22% who identify as South Asian. In total, SPS officers speak 38 different languages, with 52 Punjabi-speaking officers and 31 who speak Hindi.
That is just the kind of force one needs in a city like Surrey where 67.1 per cent of the population identified as a person of colour in 2021.
Yes, indeed, it is high time that Public Safety Minister and Solicitor General Mike Farnworth told Locke and her RCMP cronies to STOP sabotaging the municipal police transitioning – and took appropriate action to end this drama.
It's nice to have the iconic RCMP Musical Ride taking place in Surrey next month – and after that the RCMP in Surrey can ride out of the city for good!