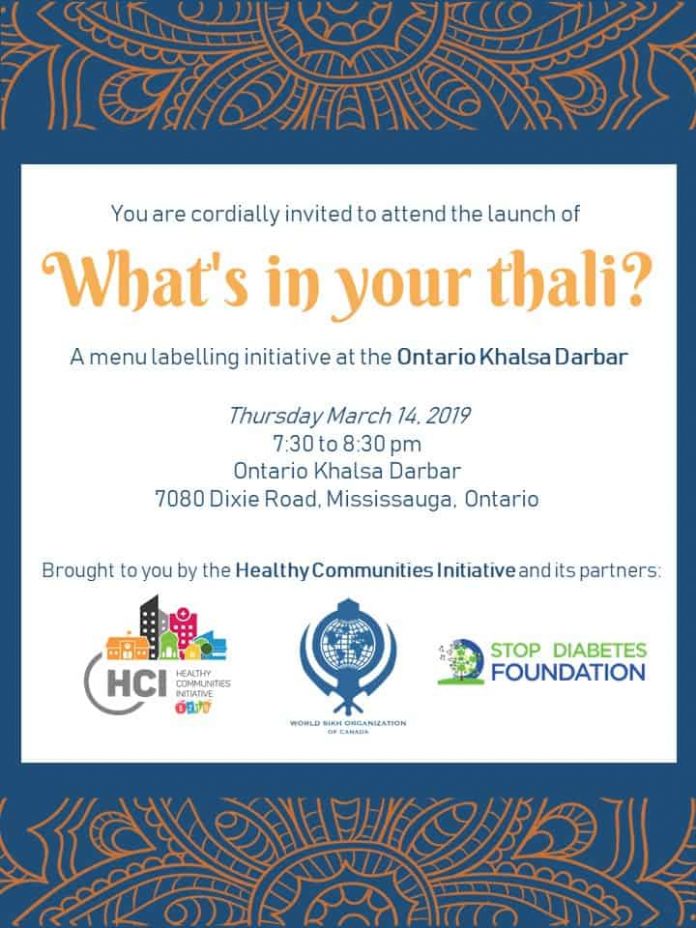 ON behalf of the Healthy Communities Initiative Steering Committee, you are invited to the launch of an innovative initiative on March 14. "What's in your thali?" is a progressive, one-of-a-kind menu labelling initiative developed for places of worship, to support congregants in making informed choices when partaking in communal meals. The first place of worship to implement this initiative is the Ontario Khalsa Darbar.
The Ontario Khalsa Darbar (OKD) is one of the largest Sikh gurdwaras in Canada and attracts congregants from across the GTA. Aligned with the practices of the Sikh faith, OKD hosts a free community kitchen (known as "langar") which serves meals to all people, regardless of their faith or social background, all day, and throughout the year. The gurdwara serves over 3,000 free meals per day, and even more during celebratory or special events. In total, well over 1.5 million meals are served annually.
Through this menu labelling initiative, congregants will be able to view nutritional information about the meals they consume that are part of langar offerings, as well as routinely offered tea and snacks. The nutritional information was developed with the support of accredited health professionals in partnership with the Stop Diabetes Foundation, and reflects the exact recipes and methods of preparation that are used in the gurdwara kitchen. The calorie counts visible on the board are aligned to what patrons of any Ontario chain restaurant are accustomed to seeing.
"What's in your thali?" is being launched on March 14, the first day of the month of Chet, which coincides with the Sikh new year. Over the coming months, registered dietitians and kinesiologists will host focused workshop sessions at the gurdwara on healthy eating and physical activity which will support congregants in how to make and sustain healthy choices.