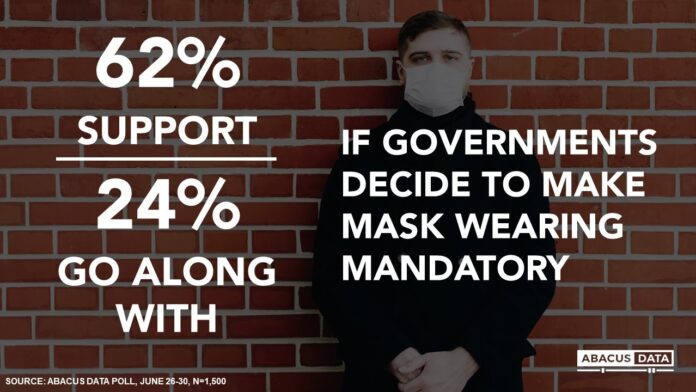 LAST week in a national survey of 1,500 Canadian adults Abacus Data asked some questions about wearing masks as a way to prevent the spread of COVID-19.
Here's what it found:
1. A third of Canadians always wear a mask when they enter a public place like a retail outlet and a quarter never do.
2. Men are significantly less likely to wear masks compared to women. Mask wearing is more common among the youngest and older adults, and resistance to wearing masks is highest among those in the 45-59 age group.
3. Mask wearing is most common in Ontario and least common in Saskatchewan, Manitoba and Atlantic Canada. 40% of rural-dwelling Canadians never wear a mask. Conservative voters are about 9 to 10 percentage points more likely than Liberals and New Democrats to say they never wear a mask.
4. Six in 10 (60%) would prefer that mask-wearing "in an indoor area where there are other people, such as a retail store" should be mandatory, while 31% prefer that it be left up to individual choice. The preference for a mandatory approach is highest in Ontario (71%) while opinion is equally divided in Atlantic Canada and a majority in Saskatchewan and Manitoba prefer mask-wearing to be left up to the individual.
5. If governments decide to make mask-wearing mandatory, there would be little opposition, however. Only 14% would oppose such a move, while 62% would support it and another 24% would go along with it. Across party lines, only 24% of Conservatives, 9% of Liberals and 5% of New Democrats would be against such laws/regulations.