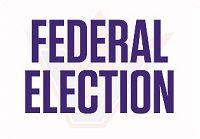 LIBERALS
BARDISH CHAGGER
Waterloo
Bardish Chagger, the Government House Leader, was elected in 2015 as the Member of Parliament for Waterloo. She is devoted to inclusion and community building from assisting with recreational sports for kids to volunteering with seniors.
In her role with the Kitchener-Waterloo Multicultural Centre, Bardish has worked to foster diversity within the community providing opportunities for social and economic engagement. As the former executive assistant to former Member of Parliament Andrew Telegdi, Bardish has a deep understanding of the issues that are important to residents of Waterloo, including manufacturing, technology and innovation. After being elected to Parliament in 2015, Bardish served as the Minister of Small Business and Tourism until 2018.
Passionate about community involvement, Bardish has lent her support to many different causes and organizations including The Rotary Club of Waterloo, Interfaith Grand River, and the Workforce Planning Board of Waterloo Wellington Dufferin.
She considers herself part of the Charter of Rights and Freedoms generation, and has participated in policy conferences on many issues including the advancement of same-sex marriage rights and the national manufacturing strategy.
Bardish graduated from the University of Waterloo with a Bachelor of Science. In 2012, The Waterloo Region Record recognized Bardish as one of "40 under 40" who would lead the Region of Waterloo into the future.
NAVDEEP BAINS
Mississauga–Malton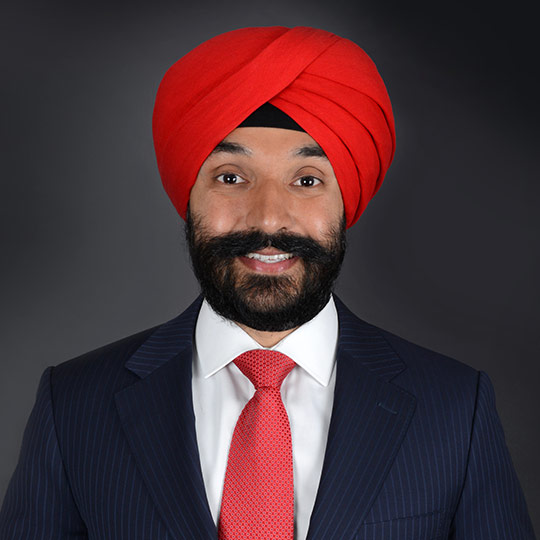 Navdeep Bains has served the people of Mississauga—Malton since 2015, and a Member of Parliament since 2004.
Currently, he serves as the Minister of Innovation, Science and Economic Development, and was a distinguished visiting professor at Ryerson University's Ted Rogers School and he has worked several years in accounting and financial analysis for the Ford Motor Company of Canada.
Navdeep has deep roots in our community, as a longtime resident of both Mississauga and Brampton, and has strong ties to the social and cultural associations of Mississauga—Malton. Navdeep has been active in a variety of community organizations, as a board member for the Mississauga Food Bank, having worked with the Juvenile Diabetes Research Foundation and the Guru Gobind Singh Children's Foundation, as well as having served as an Ontario board member with the Heart and Stroke Foundation.
He is also the recipient of a number of awards recognizing his work in promoting diversity within his community, and holds an MBA with a specialization in Finance.
Having served as the Member of Parliament for Mississauga–Brampton South from 2004 to 2011, Navdeep gained extensive experience as the Parliamentary Secretary to Prime Minister Paul Martin and as the Critic for Public Works and Government Services, the Treasury Board, International Trade, Natural Resources, and Small Business and Tourism.
KAMAL KHERA
Brampton West
Kamal Khera was elected as the Member of Parliament for Brampton West in 2015, and has also served as the Parliamentary Secretary to the Minister of International Development and the Minister of National Revenue.
A registered nurse, community volunteer and a political activist, Kamal is passionate about improving the lives of those around her and is committed to being a strong voice for change for all residents in Brampton West.
A first-generation Canadian, Kamal immigrated to Canada from Delhi, India, at a very young age. She attended York University where she earned her Bachelors of Science in Psychology with Honours and her Bachelors of Science in Nursing with Honours.
Drawn to assisting others, Kamal gained diverse experience within the field of Health through her professional experience with Centre of Addictions and Mental Health (CAMH), Peel Family Shelter, and William Osler Health Centre. Kamal presently works as a Registered Nurse in the Oncology Unit at St Joseph's Health Centre in Toronto, which gives her a deep understanding of the issues that impact individuals every day.
Kamal is an active member of her community, previously serving as Chairperson of South Asian Canadians Heritage Foundation, Mentor and Program Coordinator at Big Brother Big Sister of Peel, and Event Coordinator with Sick Kids Foundation. She also hosted 'Youth Vision' – a local TV talk show which explored issues surrounding young South Asian Canadians.
SONIA SIDHU
Brampton South
Sonia Sidhu was first elected on October 19, 2015 in a wave of hope, inclusivity, and positivity across the country.
Over the last four years, Sidhu has worked hard to bring support to the middle class in her community. 14,000 Brampton South families have received Canada Child Benefits, making raising your family affordable. Through the Canada Summer Jobs, 530 young people in Brampton South have found good opportunities.
She has helped build infrastructure in Brampton with a $750 million upgrade to GO service that will create an economic corridor and bring opportunity to Brampton. And introduced an innovative electric bus system that is the envy of cities around the world.
And through Canada's Climate Plan, a family of four in Brampton will receive a $307 Climate Action Incentive and can get a rebate of up to $1,000 on energy efficient home equipment.
Sidhu has a passion for diabetes awareness and prevention. Before politics, she worked as a healthcare professional for 18 years, a record that has helped her understand the roots of health care needs across the country.
Sidhu holds a Bachelors Degree in Political Science and has worked as a volunteer on political campaigns at all three levels of government. She has a proven dedication to her community, evidenced through her volunteer work with numerous community organizations including Trillium Health Centre.
She lives in the riding of Brampton South with her husband, Gurjit. She has twin daughters, Arshia and Amrit, and a son Akash.
RUBY SAHOTA
Brampton North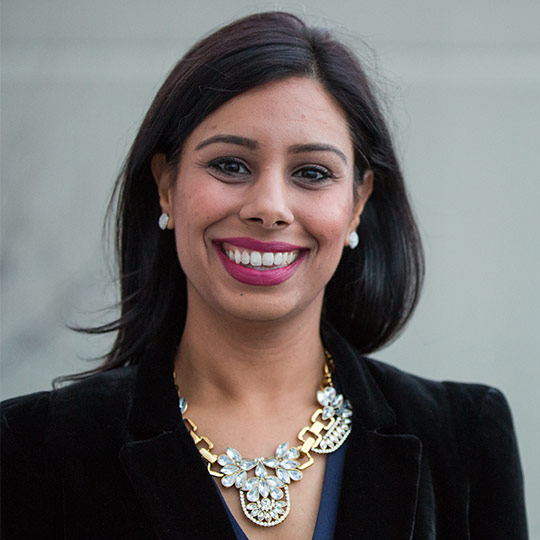 Ruby Sahota was elected as the Member of Parliament for Brampton North in 2015, and is a proven leader who is focused on delivering real results for the community. Born in Toronto and raised in Brampton, she is an active member of the local community, and is driven by the desire to give back.
First elected in 2015, Ruby serves as a member of the House of Commons Standing Committee on Public Safety and National Security, and as a member of the House of Commons Standing Committee on Procedure and House Affairs.
Recognizing how important it is to have more women involved in politics, Ruby has also been an active member of the House of Commons Standing Committee on the Status of Women, and played a key role in the House Subcommittee on the Code of Conduct for Members of the House of Commons for Sexual Harassment.
An experienced attorney, Ruby has practiced in the areas of criminal law, litigation, and dispute resolution in the public and private sectors, handling a wide range of complex commercial litigation files at the national and international level. She has also served with the Organization for Women in International Trade, UNICEF, and Amnesty International.
A dedicated mother, Ruby is passionate about encouraging young people to vote, and to be involved in their communities.
Ruby holds a combined Honours Bachelor of Arts in Political Science and Peace Studies from McMaster University, and a J.D. with a concentration in Litigation from Thomas M. Cooley Law School, where she was awarded the Blue Book Award in Immigration Law.
RAJ SAINI
Kitchener Centre
A resident of Kitchener-Waterloo, Raj has a deep understanding of the community, and is committed to making sure that everyone who calls Kitchener-Waterloo is able to succeed — whether that includes finding good work, starting a business, or raising a family.
For nearly 20 years, Raj served the community as a pharmacist and the former owner of the award-winning Greenbrook Pharmacy. It was there that he gained a true appreciation for the challenges — and opportunities — of running a small business, and the importance of helping people of all ages live longer, healthier lives.
Raj is a proud Rotarian of many years, a board member of the Canadian International Council (Waterloo Region branch), and a long-time champion of Liberal values. He is passionate about growing the local economy; creating more good, well-paying jobs; and finding smart, fiscally responsible ways to help protect the health of both people and the environment.
As the MP for Kitchener Centre since 2015, Raj has a life-long interest in international affairs and served on the Standing Committee on Foreign Affairs and International Development, and the Standing Committee on Access to Information, Privacy and Ethics. He earned his Bachelors of Science in Chemistry from the University of Toronto, and a Bachelor of Science in Pharmacy from Boston's Northeastern University.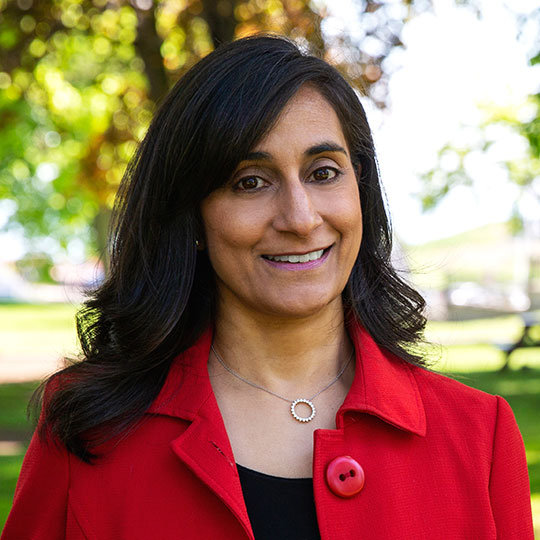 ANITA ANAND
Oakville
Born and raised in rural Nova Scotia, Anita moved to Ontario in 1985. She and her husband John chose Oakville to raise their four children, and they have called our town home for 16 years.
In the community, Anita serves on the Board of Directors of the Lighthouse for Grieving Children and has previously served on the boards of the Oakville Hospital Foundation and Oakville Hydro.
Anita Anand is a scholar, lawyer, researcher and mother of four. A devoted leader with a proven record of service in her community, Anita will draw on her deep passion and determination to make a real difference for families in Oakville.
Anita currently works as a Professor of Law at the University of Toronto. She holds the J.R. Kimber Chair in Investor Protection and Corporate Governance at the University of Toronto, is a Senior Fellow and member of the Governing Board of Massey College, and is the Director of Policy and Research at the Capital Markets Research Institute. She has taught law at Western University, Yale Law School and Queen's University.
Anita has done extensive research on corporate governance and shareholder rights and appears regularly in the media to discuss these topics. In 2015, Anita was appointed by Ontario's then Minister of Finance, Charles Sousa, to sit on the Ontario government's Expert Committee to Consider Financial Planning Policy Alternatives.
IQRA KHALID
Mississauga–Erin Mills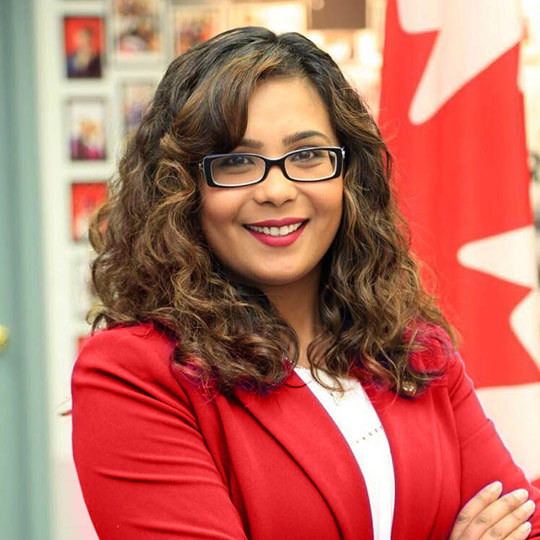 Iqra Khalid has served as Member of Parliament for Mississauga—Erin Mills since 2015. As both a fierce advocate and long-time resident of our riding she works to inspire others to take an active role in building Canada.
(Khalid, a young Pakistani-Canadian woman, immigrated to Canada in the late 1990's from England, where she began her formal schooling. Iqra graduated from York University in 2007, with a double major in Criminology and Professional Writing.)
Iqra grew up in Mississauga—Erin Mills, and she works tirelessly to make a real difference for the diverse community. She holds regular town halls and seminars at her community office, so the community can stay informed on the priorities of Mississauga—Erin Mills and so she can help bring attention to your concerns. As a result of our collaboration, Iqra has helped bring federal funding to support community projects and businesses, advocated for stronger supports for seniors and women's organizations, and encouraged our government to stand firm on human rights issues in Canada and across the world.
Before running for office, Iqra worked as a lawyer for the City of Mississauga, and she has put that experience to work in her roles on the Standing Committee on Justice and Human Rights and the Foreign Affairs Subcommittee on International Human Rights. She has reviewed legislation on behalf of the House of Commons and participated in the vetting process for Supreme Court Justice nominees. She has also completed studies and authored reports on topics such as Child Labour, The Rohingya Genocide, The Global State of the Free Press, Online Hate, and Human Trafficking.
Iqra also serves as Chair of both the Liberal Women's Caucus and the All-Party Women's Caucus. One of her proudest accomplishments so far has been the creation of the Mississauga—Erin Mills Women's Council, a group of motivated women from our riding who advise her on issues facing women and girls in Mississauga.
GAGAN SIKAND
Mississauga–Streetsville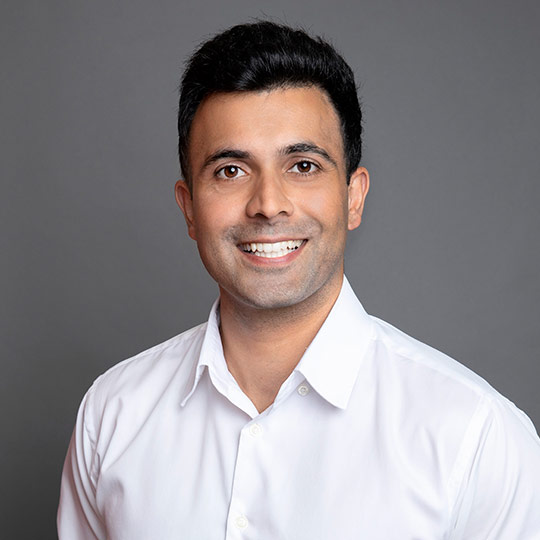 Gagan Sikand was elected as the Member of Parliament for the riding of Mississauga—Streetsville in 2015.
Gagan, a lawyer and small business owner, has lived in Mississauga—Streetsville for over 25 years. Throughout that time, he's been dedicated to community service and making our community, province, and country even better places to live, create jobs, and raise a family.
Gagan has diverse professional experience both from government and the private sector, having worked for the Attorney General of Ontario, the Ministry of Aboriginal Affairs, and the Investment Industry Regulatory Organization of Canada. Gagan also served on the Board of the Dental Hygienists of Ontario.
Gagan volunteers on the local United Way advisory council and regularly helps out at both the Eden and Seva food banks. His focus on helping youth succeed is evident from his work as a mentor with the Kids Now program at Woodlands Secondary School. He also coached basketball and served as a board member for the Young Governors Council of Junior Achievement.
RAMESH SANGHA
Brampton Centre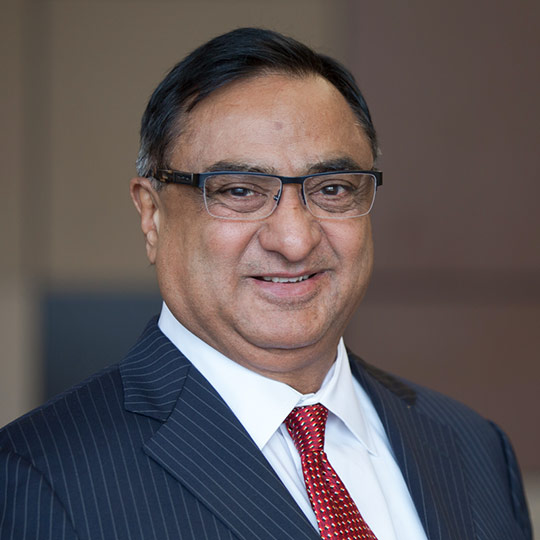 Ramesh Sangha was first elected as the Member of Parliament for the riding of Brampton Centre in 2015. He is focused on supporting the needs of Brampton's seniors, helping young people find good jobs, and promoting Canada's diversity. Ramesh serves as a member of the House of Commons Standing Committee on Human Resources, Skills and Social Development and the Status of Persons with Disabilities. He was Chair of the Canada Pension Plan Review Tribunal.
Before being elected, Ramesh established his own law practice in Brampton. He offered co-op training to local students, as well as pre-placement positions for law students. He provided people with immigration and legal counselling, including volunteering free legal services for people in need.
Ramesh came to Canada more than twenty years ago. He is married to Kulwinder, and together they have three children and seven grandchildren. He earned his law degree from the University of Windsor.
MANINDER SIDHU
Brampton East
Maninder Sidhu was the Liberal candidate for Brampton East. He is a husband, father, entrepreneur, philanthropist and someone who is passionate about making Brampton a better place. Maninder has lived in Brampton for the past 30 years and today, still calls Brampton home alongside his wife and children.
Building on the values that Maninder was raised on, Maninder firmly believes that one should do all the good that you can. Among many philanthropic endeavors, including mentoring aspiring young entrepreneurs, Maninder is the founder of The Kindness Movement Charity. This charity assists underprivileged school children and the less fortunate in India and here in Canada.
After graduating from the University of Waterloo, Maninder built a successful customs brokerage business. Today, motivated by gratitude for the opportunities he has had, Maninder is determined to help young people here find more success, close to home and their families.
GARY ANANDASANGAREE
Scarborough–Rouge Park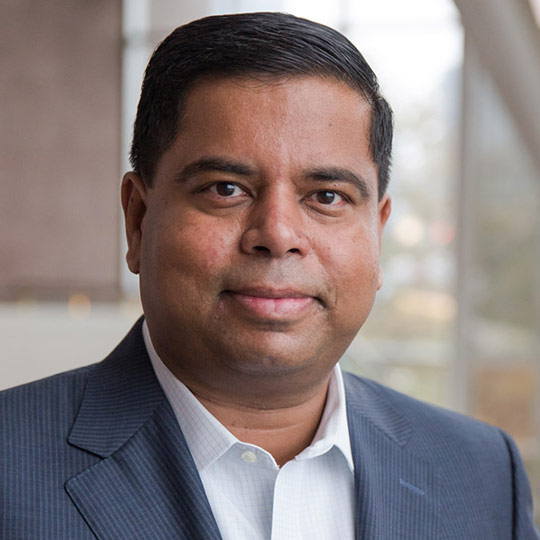 Gary Anandasangaree is an internationally recognized human rights lawyer and community activist who has advocated tirelessly for education and justice, and has served as the Member of Parliament for Scarborough—Rouge Park since 2015.
Gary has demonstrated leadership at a number of organizations aimed at supporting our local community and communities nationwide. He has served as Chair of the Canadian Tamil Youth Development Centre, President of the Canadian Tamils' Chamber of Commerce, counsel to the Canadian Tamil Congress, legal counsel to the Independent Mortgage Brokers and Agents, board member of the Youth Challenge Fund, member of the Toronto Police Chief's Advisory Board, and a member of the United Way Newcomers Grant Program.
Gary attended Osgoode Hall Law School, was called to the bar in 2006, and then managed his own firm in Scarborough. Gary has been a passionate advocate for human rights issues, regularly representing Lawyers' Rights Watch Canada at the United Nations. He has also served as a strong advocate for local youth, intervening in cases of wrongful student expulsion and suspension.
In the House of Commons, Gary serves as the Parliamentary Secretary to the Minister of Heritage and Multiculturalism (Multiculturalism). He also serves as the Vice-Chair of the Standing Joint Committee for the Scrutiny of Regulations and was a Member of numerous other committees.
In honour of his devotion to community service and local advocacy, Gary has received both the Queen's Golden and Diamond Jubilee medals. Gary received the Osgoode Hall Law School "One to Watch" Gold Key Award and the South Asian Bar Association's Young Practitioner Award.
CHANDRA ARYA
Nepean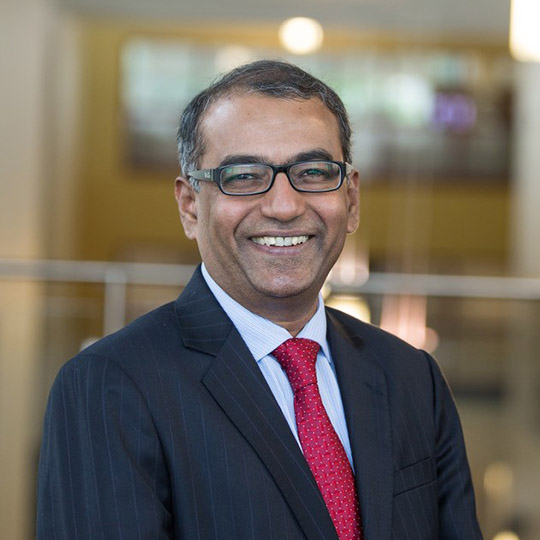 Chandra Arya has always worked to improve the lives of those around him. His passion to serve the community and strengthen the middle class motivated him to enter politics with three main objectives: affordable housing for all, providing retirement income security to 11 million working Canadians without workplace pensions, and ensure Canadian society and economy remain robust and competitive in the global knowledge-based economy thus securing prosperity for our children and grandchildren.
Along with Mayor Jim Watson, Chandra was the board of Invest Ottawa – the economic development agency of the City of Ottawa – promoting knowledge based economy in Ottawa. He also served as a board member of Unity Non-Profit Housing Corporation Ottawa and was the Vice President of Ottawa Community Immigrants Services Organization. Chandra was the Chair of Indo-Canada Ottawa Business Chamber and founder-director of Federation of Canadian Brazilian Businesses.
Chandra holds a bachelor degree in Engineering and a master degree in Business Administration. Before entering politics he was an executive in high-technology sector. He lives in Nepean with his wife Sangeetha who works at the Ottawa Catholic School Board. Their only son Sid is a Chartered Professional Account, Chartered Account (CPA, CA). As the Member of Parliament, Chandra has served on the Standing Committee on Public Accounts – the most important oversight committee dealing with Auditor General's reports on the government finances and performance of the all the government departments.
YASMIN RATANSI
Don Valley East
Born in Dar Es Salaam, Yasmin Ratansi is proud to have lived and worked in Don Valley East for more than 40 years. A grassroots leader who is passionate about civic engagement and social justice, Yasmin is focused on delivering real results for everyone who calls Don Valley East home.
Whether she's helping her constituents navigate the immigration system, or working closely with Justin Trudeau to create middle class jobs, Yasmin never stops working on behalf of the community.
As Deputy Whip of the Liberal Caucus, Chair of the Canadian Branch of the Commonwealth Parliamentary Association, and Director of the Canada-Africa Parliamentary Association, Yasmin is a leader whether she's in Ottawa or representing Canada around the world. She is also a sought-after public speaker and the Principal and Founder of Ethical Edge.
ARIF VIRANI
Parkdale–High Park
Arif Virani was elected as the Member of Parliament for Parkdale—High Park in 2015, and serves as Parliamentary Secretary to the Minister of Justice and Attorney General of Canada. He previously served as the Parliamentary Secretary to the Minister of Canadian Heritage.
Arif Virani came to Canada as a Ugandan Asian refugee and has spent his career as a constitutional litigator, advocating for human rights and access to justice. Arif has worked as an analyst with the Canadian Human Rights Commission in Ottawa, an investigator at la Commission des droits de la personne et droits de la jeunesse in Montréal, and as an assistant trial attorney prosecuting genocide at the United Nations International Criminal Tribunal for Rwanda.
Arif was one of the founders of Toronto's legal aid clinic SALCO, the recipient of the 2001 Harold G. Fox litigation scholarship at the Middle Temple, London, United Kingdom, and the 2008 Wilson-Prichard Award recipient in recognition of his contributions to the legal profession and his community.
Arif lives and volunteers in Parkdale-High Park. He is a member of the Redwood Shelter for abused women, regularly helps at the Parkdale Food Bank, is an active volunteer with Roncyworks, and has led community efforts to address mental health stigma.
Arif has an Honours Bachelor of Arts in History and Political Science from McGill University, and completed his Bachelor of Laws at the University of Toronto, where he graduated as valedictorian.
Arif speaks English, French, and Hindi. He is happily married and the devoted father of two young boys.
SALMA ZAHID
Scarborough Centre
Elected as the Member of Parliament for Scarborough Centre in 2015, Salma Zahid is a committed champion for gender equality and a strong voice for the diverse families of Scarborough.
In the 42nd Parliament, Salma served as vice-chair of the Standing Committee on the Status of Women, where she ensured the unique perspective of racialized women was heard as part of studies such as the challenges faced by senior women. And as a member of the Standing Committee on Citizenship and Immigration, she was an advocate for improved customer service within the immigration system and for increased family reunification.
As an MP, Salma worked to raise awareness of the oppression of the Rohingya Muslim minority in Myanmar and other oppressed persons around the world, and pressed the government to take a leadership role in providing humanitarian assistance. Her private members motion M-155, designating June as Filipino Heritage Month across Canada, was unanimously passed by the House of Commons.
In Scarborough, Salma has worked to bring people of different communities together through initiatives such as the Scarborough Centre Multifaith Council, firmly believing that what we have in common as Canadians is far stronger than what sets us apart.
Before entering politics, Salma was a community organizer working to support women, their families and youth, and served the public in several positions with the Government of Ontario.
A recipient of the Diamond Jubilee Medal for Meritorious Community Service for her contributions to Canada, Salma holds a Masters in Educational Management and Administration from the University of London's Institute of Education, and an MBA from Quaid e Azam University in Pakistan.
Salma, her husband Salman, and their sons Umaid and Usman are proud and long-time residents of Scarborough.
CONSERVATIVE
BOB SAROYA
Markham-Unionville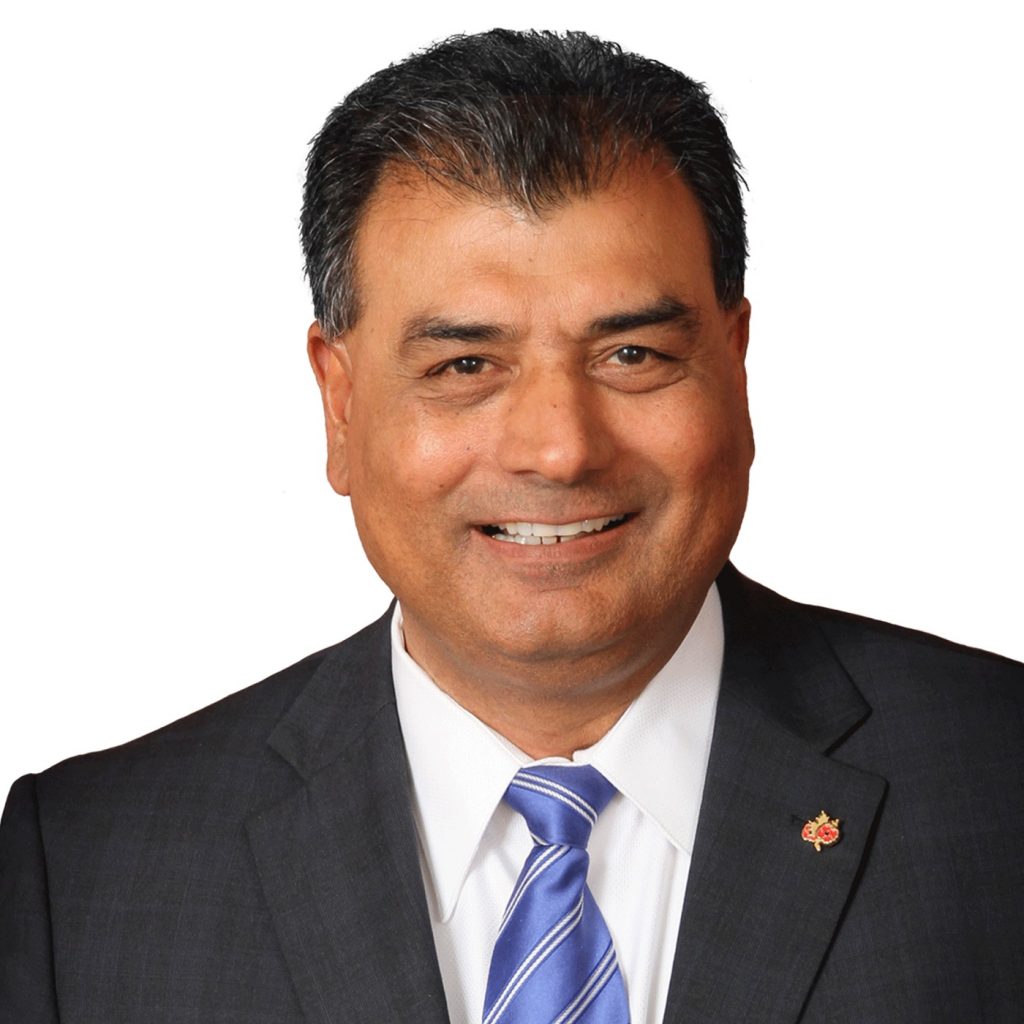 Saroya immigrated to Canada in 1975. Over the last 40 years he has become a successful business man and a well-known face within Markham. He is involved in fundraising activities for important local organizations, such as 360° Kids (York), Markham Stouffville Hospital, and several amateur sports teams. In addition, he assists new immigrants in Canada by offering them advice on career choices and investment opportunities.