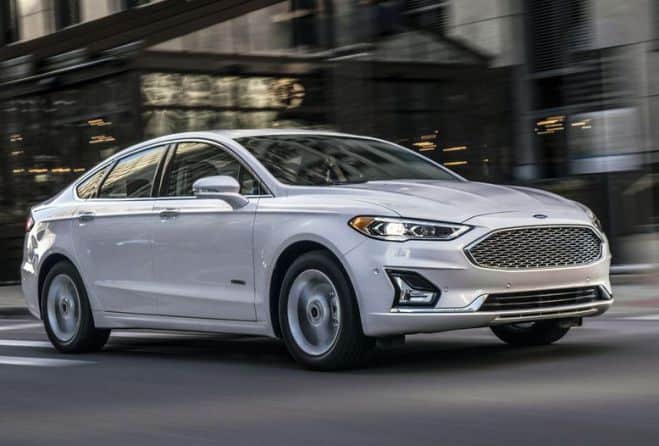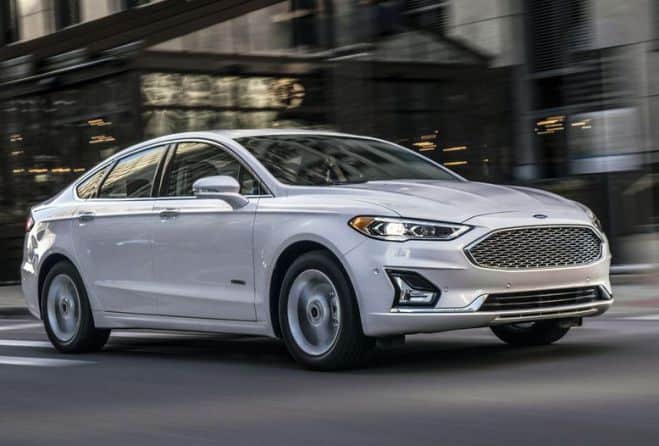 By Autoreviewman
The Fusion Hybrid and Fusion Energi are amongst the leading North American best-selling lineup mid-size hybrids and plug-in hybrid sedans. The Fusion Energi differentiates itself being an electric plug-in hybrid model featuring a gas engine with a   battery paired with an electric motor for an expected range of 30 kilometers using electric power only. The car automatically switches to the fuel efficient 2.0-litre Atkinson-cycle four-cylinder gasoline engine when the battery is depleted, allowing customers to drive more than 900 km. So, no issues of range anxiety!
The Fusion Energi features a plug in port in the front driver side front fender that allows you to charge the Fusion Energi at electric- charging stations where they are available, or from your home office outlet. The Fusion Energi arrives in three well-equipped models; SE, Titanium and fully loaded Platinum version. Changes are minimal for 2019, comprising of an upgrade of the battery pack in the plug-in hybrid Energi models with an increase in the battery pack's capacity from 7.6 to 9.0 kW-hrs. Cosmetic changes include, new front and rear fascias. The low-slung fastback roofline and the long silhouette give the Fusion an exotic premium look. Interior wise, an upmarket cabin design and the cool rotary-style shift selector makes for a classy, up market look. Ford's new SYNC 3 with Apple CarPlay and Android Auto is a big improvement on things.
The hybrid power train is very refined with good transitions and a smooth power delivery. The Fusion Energi's 2.0L Atkinson-cycle four-cylinder and electric motor produce 188 hp, combined and drive the front wheels through a continuously variable transmission. The Fusion can travel up to 30-35 kilometers on electric power alone, at speeds up to 136 kph.
Fuel economy is rated at LE/100km 2.4 city and 5.6 highway which is very impressive. It is important to note that there are also provincial government discounts for fuel efficient electric and hybrids cars which Fusion Energi buyers are eligible for. The rebates and incentives range from $4,000 to $2,500 according to where you live. In the BC can get up to $2,500 off or more a depending on dealer incentives and discounts, so it's a pretty good deal… All in all, the Fusion Energi is an attractive, hybrid sedan with great fuel economy and features. Highly worth considering.
2019 Ford Fusion Energi Titanium Base priced from $35,590 Price as tested with options    delivery and destination $41,990
More info at www.fors.ca