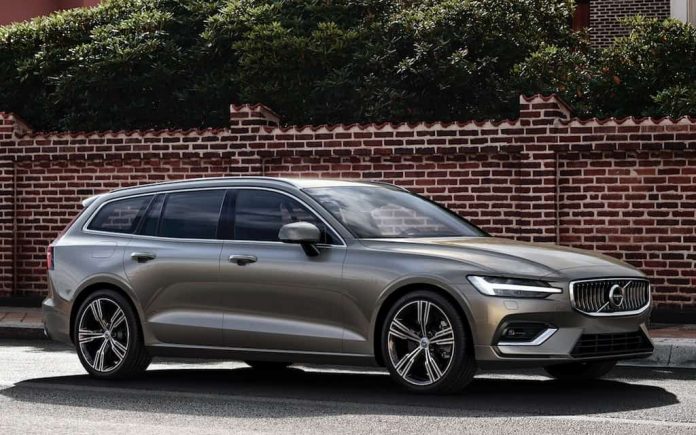 By Auto reviewman
You won't see many Volvo V60 wagons around, which is understandable I suppose. However, the compact V60 is bit of a premium niche product that deserves more exposure The V60 arrives in Canada with a choice of two powertrains: T5, with the 250-hp turbocharged 2.0-liter four-cylinder engine with front wheel drive; and the T6, with the 316-hp turbo- and supercharged version of the engine and all-wheel drive. The T6 by the way will accelerate from zero to 100 km/h in a zippy 5.6 seconds, according to Volvo Transmission for both is an eight-speed automatic.  Volvo will offer two trim levels: Momentum and Inscription. (As tested). The latter offers more cosmetic upgrades such as: cool driftwood inlays inside and standard 18-inch alloy wheels, as well as enhanced equipment, with a 12.3-inch digital instrument panel and Harmon Kardon premium audio. Leather seats are standard on both, but the Momentum-spec V60 can also be ordered with chic retro looking plaid cloth seats. The T6 Inscription is priced at $65,600 plus options while the T6 Momentum starts at a $48,900.
The V60 interior offers a cool, neat streamlined ambience, typically Scandinavian, with a light airy feel and colors. Most of the major functions are controlled via a nine-inch touchscreen that contains Volvo's Sensus infotainment system, it goes without saying safety is very high with Volvo. Major features in the new V60, include the standard City Safety system with Autobrake technology and the optional Pilot Assist system (part of the $1,500 Convenience package). The first uses automatic braking and detection systems to assist the driver in avoiding potential collisions. Volvo say's it's the only system found in a vehicle that can recognize pedestrians, cyclists and large animals.) The upgraded and semi-autonomous Pilot Assist supports the driver with steering, acceleration and braking.
The V60 also feature the debut of Volvo's new Oncoming Braking function, a safety system should the car sense a head-on collision is inevitable, automatically activates maximum braking. The system goes into action two-tenths of a second before impact reducing crash force significantly.
Gorgeous looking, rare, sleek and expensive looking, the Volvo is a wonderful car to drive and own. If I had to buy a wagon, I know which one I would like parked on the driveway! Highly recommended!
2019 Volvo V60 Wagon. T6 Inscription priced from $65,600. T6 Momentum starts at a $48,900.  
Website www.Volvo.ca